Joe Gibbs Racing's pit crews in the Cup Series are really good.
No more so than the pit crew on Kyle Busch's No. 18 Toyota.
All four of JGR's pit crews are in the top nine when it comes to average time on four-tire pit stops under caution. Busch's crew leads the entire series with an average of 14.837 seconds.
"Yeah, things started a number of years ago with Ray Evernham and Jeff Gordon and a dedicated pit crew then, they've just taken this to a whole 'nother level," Dale Jarrett said on NASCAR America.
Pit crew chemistry could be a "difference maker" in the closing races of the regular season.
"We're looking at Kyle Busch right now, at how good he is, how much the crew trusts Kyle Busch when he's coming into the pits, that he's not only getting there quick, he's under control in doing that," Jarrett said.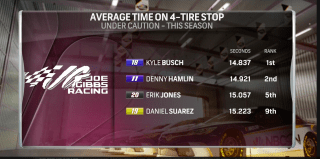 Of the "Big 3" of Busch, Kevin Harvick and Martin Truex Jr., only Busch's team is in the top nine on average pit time. Harvick's crew is 10th (15.258 seconds) and Truex's is 12th (15.295).
"If it comes down to Homestead and the last race, Kyle Busch might not be the best car," Jarrett said. "They get him out front, he might be the hardest man in the world to pass at that point in time."
Watch the above video for more.