LOUDON, N.H. — A sea of change is brewing in NASCAR and no idea seems far-fetched anymore.
A Cup race incorporating Charlotte Motor Speedway's infield road course would have been mocked. Such a race is about two months from happening.
A Cup race on a dirt track? It seems more plausible but still a few years away.
And the idea one driver has of turning a 1.5-mile track into a short track doesn't seem as farcical as it would have been years earlier.
While the action on the track remains a key focus for NASCAR, the race to retain and reach out to more fans also is key. That's opened conversation to changes, particularly what venues should hold Cup races.
"To me, if you go to a track that is smaller, it's better for the fans," Ryan Newman told NBC Sports. "If you go to a track that is slicker, it's better for the fans. If you go to a track that is different, it's better for the fans.
"At this point in our sport, different is good because we've done so much of the same in the last 18 years that I've been involved as a competitor. I would say as a fan it has become somewhat redundant."
Newman competed in Wednesday's Camping World Truck Series race at Eldora Speedway and likes the idea of a Cup race on dirt. Cup last ran on dirt Sept. 30, 1970 at the North Carolina State Fairgrounds in Raleigh. Richard Petty won.
Is it time for Cup to return to its roots?
"The Cup Series was not above racing on dirt 40 years ago, 50 years ago," Newman said. "Dirt is where we get our food from. There's nothing wrong with racing on it."
Not everyone agrees.
In the race by public opinion to change the sport, Kyle Larson is pumping the brakes on one idea.
"I wouldn't like to see Cup on dirt," Larson said Friday at New Hampshire Motor Speedway, echoing comments he made two years ago. "To me, Cup belongs on pavement and real road course tracks."
Asked what could be done to make Cup racing on dirt a better idea to him, Larson noted improved tires for that surface and more horsepower. He then stopped himself and said: "I don't really know how to answer the question without making people mad."
One thing that is becoming evident is there are few bad ideas.
The notion of racing at different tracks is gaining momentum. The last track added to the Cup schedule was Kentucky Speedway in 2011.
"I think that new venues always add excitement," Denny Hamlin said Friday. "I mean, that's what really, in my opinion, boomed the popularity in the 2000s, was going to these new race tracks. You know, Kentucky was awesome for the first time and then it's just kind of – it fizzled out and it's still the same old Kentucky that it's always been.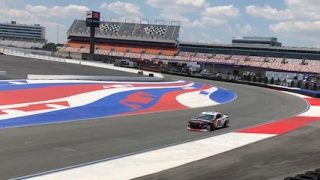 "If you want to talk about a road course, there's some amazing tracks just north of the border in Canada that are awesome – Montreal and tracks that are made for road course racing. The (Charlotte) roval is a little bit different of a beast because I don't know how much architect went into coming up with passing zones and the lay of the land.
"It's certainly a wildcard race and maybe that's what the fans want. If it is, then we can – we'll do that every week, but I definitely like the idea of going to new venues because there's always a level of excitement.''
But Hamlin also knows change will be slow.
For those wanting races at different venues, NASCAR signed five-year sanctioning agreements with tracks that go through the 2020 season. The 2019 schedule already has been announced. So unless something dramatic happens, there won't be anything new until 2021.
If then.
"None of this is ever going to happen," Hamlin said of the many venue changes fans and those in the sport support. "Not until these tracks and NASCAR get together and are willing to make changes."
But fans and those in the sport can dream. While thinking about the possibilities, David Ragan has an idea for his home track of Atlanta Motor Speedway. The track's rough surface, praised by drivers, likely will need to be repaved soon and with it will be the fear that the multi-lane racing will disappear.
Ragan has a solution for Atlanta. Don't repave. Rebuild.
"Whenever they go to pave Atlanta Motor Speedway, they need to reduce the size of the track to three-quarters of a mile and build it like Iowa," Ragan told NBC Sports. "I think they would make a big mistake if they would just repave it."
It's a wild idea that doesn't seem likely to happen. Then again, who had ever heard of a roval two years ago?