Let us know if you've heard this one before: Kyle Busch, Kevin Harvick and Martin Truex Jr. are really good at 1.5-mile tracks.
It's just part of the narrative that surrounds the Cup drivers who have been dubbed the "Big 3" through the first 18 races of the season.
In the six races held at 1.5-mile tracks so far, Harvick and Busch have split the wins evenly at three.
That's the fewest different winners through six 1.5-mile races ever. The previous low was three in 1998 and 2013.
Truex, who won a series-record seven races on 1.5-mile tracks in 2017, has finished in the top five in all but one (Texas, DNF).
Despite a victory on a 1.5-miler not being among his three wins this season, Truex still has won five of the last 12, including his win in last year's finale at Homestead-Miami Speedway.
With help from Racing Insights, here's a deeper look at how the "Big 3" are performing at intermediate tracks this year compared to the rest of the competition.
1.5-mile track lap leaders 2018 (over 50 laps)
Kevin Harvick 600*
Kyle Busch 571*
Kurt Busch 112
Kyle Larson 108
Ryan Blaney 74
Aric Almirola 70
Erik Jones 64
Brad Keselowski 56
*Harvick and Kyle Busch have led 63 percent of the laps on 1.5-mile tracks in 2018. Truex has only led 20 laps. He had led 536 laps entering Kentucky last year.
Busch has won three of the last four races on 1.5-mile tracks and finished in the top 10 in the last seven races, matching his career longest streak.
Busch is the only driver this season to finish in the top 10 in all six 1.5-mile races.
Here's how Busch and Harvick match up head-to-head at 1.5-mile tracks so far.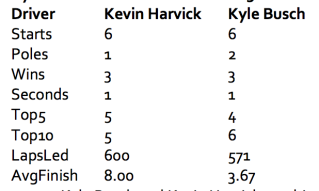 The series heads to Kentucky Speedway, a 1.5-mile track, this weekend.
Truex claimed the win there last year over Kyle Larson and Chase Elliott.
Busch's lone win there came in 2015.
As for Harvick, Kentucky stands as one of the two active tracks he's raced at in Cup without scoring a win. It's the only active track he hasn't even finished in the top five at. His best finish in seven starts there is seventh in 2014.
Now here's a look at who could impede the "Big 3" from visiting Victory Lane Saturday night (7:30 p.m. ET on NBCSN).
Brad Keselowski
If anyone owns the track in Sparta, Kentucky, it's Keselowski.
The Team Penske driver leads the series with three Kentucky wins.
In fact, since his first start there in 2011, Keselowski has never gone more than a year without winning at Kentucky. On the flip side, his three wins represent his only top fives there.
Through six 1.5-mile races this season, Keselowski has two top fives, a runner-up at Atlanta to Harvick and a fourth in the Coke 600.
Kyle Larson
The Chip Ganassi Racing driver doesn't necessarily need to win Saturday, but he probably doesn't want to finish second.
Larson has finished second four times this season without a win, leading all drivers. Only one of those, in the dramatic finish two weeks ago at Chicagoland, was at a 1.5-mile track. He's placed in the top five in two other 1.5-mile races (Kansas, Las Vegas).
In 53 starts on 1.5-mile tracks, Larson has seven runner-up finishes without a win, an all-time high.
All seven of those second-place finishes have been at different tracks.
His runner-up finish at Kentucky last year is his only finish better than 19th there.
Larson is one of nine drivers who won in 2017 who have not this season.
Should Larson finally breakthrough Saturday, he would deliver Chevrolet its first Cup win at Kentucky. It's the only active Cup track Chevy has not won at.
What's working against anyone wanting to get their first win this season and chip away at the "Big 3"?
History.
In seven races held in Kentucky, no driver has ever earned their first win of the season there.