JOLIET, Ill. — Kyle Larson didn't make the last-lap move on Kyle Busch as he hoped Sunday at Chicagoland Speedway.
Oh, yes, Larson planned to hit Busch.
Larson just didn't want to get in front of Busch so quickly.
"I wanted to slide in front of him," Larson said. "But I knew I would be too tight and have to slow down too much to where he would just probably cross over and drive away from me.
"I did plan to go into there and get into the side of him and slow him down, which I did, but I really didn't want to clear him before (Turn) 3 because I knew that would give him the opportunity to do that into 3."
The result was NASCAR's most exciting finish of the season. Busch repaid Larson for the Turn 2 contact on the final lap by shoving Larson in the rear bumper in Turn 3. That sent Larson into a sprint car slide and Busch into the wall.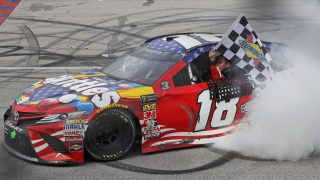 Busch recovered, straightened his car and drove to the finish line to earn his fifth win of the year. Larson skidded to the grass, regained control of his car and finished second for the fourth time this season.
"I thought he was going to pull a slide job,'' Busch said of Larson's move in Turn 2. "When he didn't try to do a slider, then I wasn't sure what his next move was going to be.
"I was like, 'Surely he's not going to drive into the side of me.' Then he did. After that point … all bets are off."
Busch bounced off the wall in Turn 2, lost the lead down the backstretch and chased Larson. Busch's plan was to cut under Larson when Larson slid up in Turn 3. Larson stayed on the bottom.
Busch went to his next option.
"I drove off in there as far as I could and I got into the back of him," Busch said. "Once I did that, he was kind of sliding loose. I was just trying to get back to the start/finish line after that. It's kind of a product of once it's done to you, it's fair game."
Larson knew what he was doing when he hit Busch in Turn 2.
"I moved him first," Larson said. "I can't be too upset about the move into 3. I opened the door for that. I waved the green flag to run into each other. That was just a fun finish."
Busch and Larson have had their duels — Busch and Larson have finished 1-2 eight times in Cup and Xfinity with Busch winning each time. The most recent time came in April at Bristol when Busch used a bump-and-run move to get by Larson with six laps to go and win.
"Maybe that's what he kind of thought he had on me in Turn 2," Busch said for Larson's physical move. "If he would have been able to be alongside of me and raced me clean, we would have just raced through 3 and 4 and seen who could have got back to the start/finish line first.
"Once contact is made in a race, it's kind of like OK, it's every man for himself. Even me, when we had that race at Bristol and I got into him with (six) to go, I was like, 'Man I thought I did that too early because he could get back to me.' He never could get back to me."
Larson reached Busch on Sunday at Chicagoland with help.
Both he and Busch admit that if it hadn't been for lapped cars slowing Busch, Larson likely would not have gotten close enough to challenge for the win.
"I don't know what position they were racing for, but they were racing very hard for it," Busch said of the lapped cars in the final laps. "They were just side‑by‑side. When that happens, there's just nowhere for me to go. There's no clean air. 
"One was on the bottom. I think there was a middle lane kind of open, two on the top. I got by (Ryan) Newman, I got plugged up off of (Turn) 2, lost my momentum. Newman came to the bottom.  We were three‑wide with lapped cars in the backstretch. 
"I couldn't turn off 3 to the bottom like I would have if he wasn't there. I don't think (Ricky) Stenhouse knew that. Stenhouse kind of right reared me, got me steering up the racetrack towards the wall. That killed my rear tires for the next two laps. I was just sliding for dear life. I don't know if anybody really did anything wrong, let's say. But there was an awful lot of lap cars that were way more gracious, let's go with that."
Larson put himself in position to take advantage of the lapped traffic by running the high line, as he so often does, but with a precision not always seen. While he did clip the wall once late, he constantly ran inches — "a half inch probably at times," he quipped — without leaving a trace.
"It's super impressive how close he can enter on the wall and how quickly he can get back to the throttle and have complete control of his car so close to the wall lap after lap," said Busch's crew chief, Adam Stevens, about Larson.
"I don't think there's ever been anybody that I can recall that's been able to do that.  I'm sure it's the dirt track skills and the way he grew up, what he raced growing up. It just speaks to his talent."
As Larson closed on Busch, car owner Joe Gibbs watched helplessly.
"This is a problem," Gibbs said watching from pit road.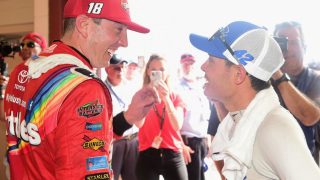 But in this matchup of among the sport's most talented drivers, Busch prevailed.
After Larson finished describing the "awesome finish," he walked to the garage stall where the makeshift Victory Lane moved to because of impending rain.
He and Busch talked.
Busch told Larson: "I thought you were going to slide me. I was all ready for that."
"No, I didn't have enough room. By the time you got back to my outside, I had no other choice, stall you out, I hit you."
"You knew it was fair game after that?"
"Yeah, I knew."