MORRISVILLE, N.C. – The shiny new restaurant bar's location is a prime one at the bustling crossroads inside Terminal 2 of Raleigh Durham International Airport.
It sits at the transitional nexus of Gates D14 to 20 (where a bevy of passengers are awaiting midmorning flights to Washington, D.C., Chicago, Seattle, Newark and Trenton, N.J.), next door to a Starbucks and adjacent to a corridor that will hum with daily foot traffic for countless destinations.
On a recent Monday morning in June, the proprietor of the establishment casually stood near its signature mechanical bull, waiting to be announced at the grand opening of the newest location for Dale Jr.'s Whisky River.
Booming over the din of an annoyingly loud airport PA crackling with boarding announcements and lost items at security, the introduction was a grand one.
"He once was known as a great race car driver … now he's known as a great restaurateur and businessman!"
The entrepreneurial description of a two-time Daytona 500 winner might have seemed a curveball, but this also isn't the Dale Earnhardt Jr. you've known for the past two decades in NASCAR.
In trading a helmet for the headset that he will don as an official broadcast analyst for the first time Friday, Earnhardt hasn't left racing behind by a long shot, but it's also clear that as one phase of his life ends — the competitive driving synonymous with his family's famous surname for more than a half-century – a new chapter is unfolding that will feature some of the same ambition and competitiveness.
It's the race to make Earnhardt more transcendent as a brand ambassador and cultural touchstone than he's ever been — without ever taking another checkered flag.
"I don't want to stop working or doing," Earnhardt told NBCSports.com about his life outside racing full time for the first time since 1998. "I just didn't want to drive a car anymore. I've got a lot of businesses that are growing or trying to grow.
"I didn't retire from driving race cars to just not do anything or take a break."
In many ways, the schedule is more harried now for the 43-year-old who's gotten married and became a first-time father over the past 18 months.
There is the work that will begin as NBC Sports Group takes over the 2018 NASCAR schedule this weekend at Chicagoland Speedway. Earnhardt will join former crew chief Steve Letarte, Jeff Burton and Rick Allen in the broadcast booth for a career that he hopes will go "for a long time … 10 to 20 years."
But that's only the most highly visible endeavor of a well-crafted business portfolio whose tentacles touch the media, automotive and food and beverage industries.
Whisky River, which already had bustling locations in Uptown Charlotte and the Charlotte Douglas International Airport, recently opened its newest branch at RDU, soon will open a sprawling 14,000-square-foot footprint (much of it retail) in Myrtle Beach, South Carolina, and is planning another airport location in Fort Lauderdale.
The Beverly Hills-based WME talent agency has Earnhardt, its first race car driver client, slotted for three to four TV series on which he will serve as executive producer, as well as several other projects (including licensing and endorsements, an "experiential" project and more frequent speaking engagements and personal appearances that aren't necessarily tied to racing).
Hammerhead Entertainment, Earnhardt's longtime production company, will handle some of the TV work and more, while Dirty Mo Media, his burgeoning content network, has expanded his Dale Jr. Download podcast into a weekly show on NBCSN.
There also are the Chevrolet and Buick GMC dealerships (co-owned with former car owner Rick Hendrick's automotive sales empire) in Tallahassee, Florida.
And a DIY show ("Renovation Realities: Dale Jr. and Amy") has been providing an often lighthearted glimpse at a house restoration project in Key West, Florida (that he took on with his new wife, an interior designer whom he credits often for helping him become more comfortable in public).
He is barely seven months removed from his last start in NASCAR's premier series, but the foundation for a full and smooth transition to beyond the wheel was being laid since Earnhardt approached his 40s.
Mike Davis, the director of brand strategy at JR Motorsports, said the discussions began five years ago "about pressing Dale to think about what life after racing would look like." It was long before a concussion sidelined Earnhardt for the second half of 2016 and helped cement 2017 as his final season (he will detail how he wrestled with concussions and when to end his career in a new book, "Racing to the Finish," with author Ryan McGee that will be released in October).
"For a lot of athletes, their whole identity is wrapped up in their sport that they compete," Davis said. "When they lose that identity, get replaced and retire, and don't have whatever needs being met, they don't know what to do with themselves, and it affects their happiness. I was concerned about Dale in that regard. I had a feeling he had his stuff together and wasn't going to go through, 'What am I going to do without my racing?' but you never know how people are going to react until you go there."
---
Earnhardt has reacted by filling (but not necessarily replacing) some of the competitive void through investing more time on his businesses. Though his older sister, Kelley Earnhardt Miller, runs his long-term financial planning, Earnhardt is looking at his company's monthly balance sheets more closely and asking "Why?" more often about how and when the profit and loss numbers shift ("We remodeled the house in Key West, and you had a wedding," was a recent answer).
For Earnhardt's millions of fans, retirement might mean a beachfront condo and cashing in the 401k in their happy golden years, yet it means something entirely different for a 15-time Most Popular Driver whose professional career has ended while arriving at a completely different station in middle age.
"I think one of the reasons he doesn't miss being in a race car that much is that he's got this whole new thing called marriage and family in his life," Earnhardt Miller said. "Where a lot of people, that kind of simultaneously happens: You get married, you have kids, you build your career.
"For him it's these two different things: He's had this driving career for 20 years where he hasn't had a wife traveling with him or family. So now he's got this attention in this whole new way, and this whole new life of things he gets to do, so I think that those whys are important because of that. Because he wants to be involved and know, 'What's this going to do for me? What kind of effort am I putting into it? Why am I doing it?' He wants to understand."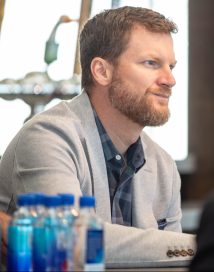 And that's driven as much by the finite realities of being a family man.
"It really isn't the sky is the limit because with success comes responsibility and devoting more time to those things, and there's only so much time I'm willing to spend on anything," Earnhardt said when asked about his financial ambitions. "So it's really going to be whatever you put in, you're going to get out of it.
"I don't really have a big long-term vision. We didn't have one for JR Motorsports. It just sort of grew and had success and more success and got bigger and bigger and bigger, and you turn around one day, and you just can't believe how much it's grown from where we started it, and I hope that's what I feel about all our businesses one day."
Over the last 17 years since Kelley Earnhardt Miller came to help run the businesses, JR Motorsports, which most publicly functions as a four-car team in the Xfinity Series, has grown from six employees to more than 150.
Perhaps that exponential growth won't happen for his businesses, but there is potential for properties such as Whisky River to expand nationally.
It will be predicated, though, on Earnhardt remaining a cross-cultural force with the commercially appealing power that he commands simply by being himself.
That's why he has aligned with WME, which has worked to help slide pro athletes into new business ventures (Kobe Bryant, who recently won an Academy Award as the executive producer of a short animated film after five NBA championships, would be a good example).
"Dale is unique because he has really shown some of the greatest courage to go into a sport that unfortunately took his father," said Sean Perry, a partner at WME in the non-scripted television department. "He then excelled at it both on the track and being an ambassador. He speaks to Americana in the best way. There's really nobody that you could say, 'Dale is like this.' Because there is nobody like Dale.
"We think he's only done Chapter I of his career, and there's a lot more."
A blueprint was left by other popular athletes, such as Magic Johnson and Peyton Manning, who have continued to leave a mark long after their playing days were over.
"Athletes with strong and monetizable personal brands that extend well beyond their careers tend to have three things going for them," said David Carter, executive director of the USC Marshall Sports Business Institute and principal of The Sports Business Group. "They have a comprehensive approach which includes tactically marketing themselves, finding the right mix of investment options and surrounding themselves with ethical, capable advisors. They then deliver and reinforce a consistent message and do so with just the right amount of exposure.
"Earnhardt is well positioned to excel long term because he comes across as authentic and has a committed and avid following, one cultivated over a very long time."
Former NBA Hall of Famers Shaquille O'Neal (another WME client) and Charles Barkley (whose renown as an NBA analyst and celebrity endorser probably exceeds the fame of his All-Star seasons) are the two retired role models for Earnhardt.
"You've got to still want to be a personality that people are interested in working with and have to do things like broadcasting," Earnhardt said. "You look at Shaquille and Charles and what they were able to do with their brands after they played. They make a good living doing what they do. People still want to be involved with them. Not only just Corporate America, but people still want to be in business with them.
"Those are two guys that would be good comparisons to what you'd like to accomplish after your playing career is over. They have fun. They enjoy what they do."
---
The atmosphere is loose and festive during the Whisky River grand opening at RDU.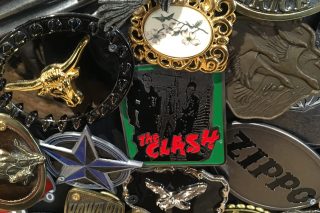 As a guitarist strums and sings "Ring of Fire" on a low-slung stage in a corner of the restaurant, a crowd of airport dignitaries, regional business leaders and some members of the North Carolina legislature are met by carving stations offering samples off the menu (Earnhardt's favorite is the buffalo chicken salad) and nearly 200 Mason jars filled with the bar's most popular cocktails.
Earnhardt moves effortlessly among them, glad-handling VIPs while constantly signing autographs and taking photos with everyone from congressman to waitstaff.
He shows off a few Whisky River traditions – a wall of welded belt buckles (like Earnhardt's tastes, it's eclectic and ranges from the cover of The Clash's self-titled debut album to traditional cattle drive motifs) and Junebug, the mechanical bull.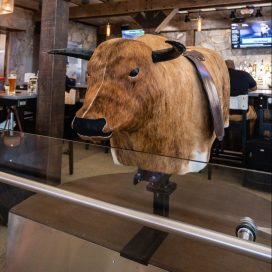 He encourages everyone to try the latter while they can. The Charlotte airport location no longer has one "because there were so many people trying to get in, there weren't enough seats. That's a good problem to have.
"We took it out to pasture, but it'll be back," he said. "We hope to do that here."
The CLT location has become one of the airport's biggest restaurants in revenue, breaking some monthly sales records, according to Earnhardt. Partnering with HMS Host, which operates restaurants and stores in more than 100 airports, there could be as many as two to three dozen Whisky River terminal locations in the future.
"However many they want to put in these airports," Earnhardt said. "We've got a great partner, so we're working with people who have so much success, so they can plug us right into these airports, and we can hit the ground running. You don't go in wondering if it's going to work or apprehensive, you feel pretty confident going in that it's going to have success and people are going to like it because of your involvement with HMS Host and their experience with doing business in airports."
With nearly 12 million passengers coming through RDU last year, there's an inherent customer base, but Earnhardt prides himself on serving "amazing food because that's the reason people really come" to the franchises that bear his stamp.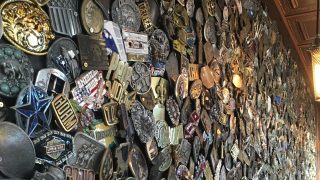 Whisky River is an offshoot of the replica Wild West town that Earnhardt built on his 200-acre property north of Charlotte, an homage to a favorite movie genre inherited from his late father (who loved the spaghetti westerns starring Clint Eastwood).
It makes it easier to make the sales pitch.
"I tell people all the time we don't have to give him talking points or say, "Hey, you need to say this," because he speaks from the heart and that's what we operated based off," said Tony Mayhoff, Earnhardt's director of brand marketing and partnerships. "He's very genuinely Dale Jr. and every business has his personality."
That's been true from the outset for Earnhardt, a technophile and shoe maven who once had personal service agreements with Sony and Adidas, but there also have been some misses on business investments.
A standalone Whisky River in Jacksonville, Florida, closed after a four-year run (its sales couldn't support its size, Earnhardt Miller said). An early attempt at a social network called Infield Parking might have been too far ahead of its time; a racetrack in Mobile, Alabama, never got off the drawing board; and two lines of chocolate bars and potato chips bearing his name and likeness fizzled despite strong corporate backing.
"There are certain partnerships that haven't always materialized for some reason or another," Earnhardt Miller said. "A lot of people come to you and think if they just put Dale's name on something and turn it into bucks. We've learned through trial and error through the years of what has worked and didn't."
And as her younger brother has gotten older, becoming more selective with opportunities has been a byproduct. Even Whisky River, which has evolved from its origins as a bar that also was a trendy nightclub into a more accessible restaurant that also has a bar, is indicative of Earnhardt Jr. gracefully aging into family man.
"Probably 10 years ago, we could have done a few things that maybe weren't exact alignments with him and pulled it off, but I think with his growth and maturity that it's more important now in his businesses," Earnhardt Miller said. "If we do things that are consistent with who Dale is, they're going to flourish and grow in a greater way because he gets to speak to it in a real and true way. I think that just opens up opportunities for us because there's certain things that really haven't made sense in the past because he wasn't married (and) didn't have a family."
It's certainly a marked change from the hell-raising lifestyle of "Club E", the parties in his basement that Earnhardt regularly threw in the early 2000s as the Budweiser-sponsored bachelor with a 200-mph ride and a famously edgy Rolling Stone interview.
Now the avid social media user often has used Instagram and Twitter to promote his love of grilling meats and BBQ. When her brother recently sent invites to his boat for a summer excursion, Earnhardt Miller cautiously asked if it would be family oriented for her oldest teenage daughter to attend.
"He was like, 'Everything is family friendly from here on out!' " Earnhardt Miller said with a laugh. "OK, now I don't have to ask anymore."
It's benefited his JR Motorsports' Xfinity Series sponsors, too, as Dale Jr. and his wife, Amy, have helped marketed family products for Suave and Dove.
Marriage also earned him a deal with QALO, a silicon ring company. When the announcement was made on social media, a Twitter troll asked in a (since-deleted) tweet what he was becoming.
Earnhardt replied, "A husband and a father."
---
There's still time to be a husband, a father and a sports fan, though, and Earnhardt has made the most of NBC Sports Group's reach.
Since January, he has filed reports or made on-air appearances at the Super Bowl, the Winter Olympics and the Stanley Cup. If not for his niece's high school graduation, he'd have watched Justify win the Belmont Stakes in person.
Beyond promoting NBC Sports Group's NASCAR coverage, the network exposure also helps Earnhardt keep his sponsors happy (he retained Nationwide and Goodyear from NASCAR).
"We weren't after the deal that paid us the most, we were after the deal that kept us the most relevant," said Davis, one of Earnhardt's chief lieutenants for more than 12 years. "That's the beauty of the NBC deal: Find me another way in which you go to the Super Bowl and the Winter Olympics. That's incredible for us.
"Relevancy is what we're after, and that's why this is awesome. The businesses of Dale Jr. thrive based off that. That's the top of the pyramid."
On a much lesser scale, the DIY show (which has drawn solid social media buzz) is another example of "staying in the conversation." Envisioned originally as a path to defraying the costs of an expensive Key West house renovation, the financial return wasn't as expected for a major time commitment (Dale and Amy spent most of their off days doing shoots during the second half of last year).
"We ended up breaking even on it," Earnhardt said. "We couldn't get deals on the parts and pieces and wood and lumber and things like that, so we ended up paying for that ourselves. Basically it was just to do the TV show to keep partners happy like Nationwide and Goodyear, you have to be relevant. That's part of being on NBC broadcasts is to be out there. Because if you don't, you're out of sight, out of mind."
The project also is indicative of how ideas get generated by Earnhardt's brand team, which was reorganized about 18 months ago and meets weekly on big-picture ideas. Earnhardt Miller's friendship with an HGTV producer (from a show long ago about her passion for scrapbooking) helped spur "Renovation Realities."
As the leader of the family oriented company (Earnhardt's aunt, Cathy, has run his retail store for years, and his mother, an uncle and cousins also work at JRM), Earnhardt Miller has been the final say on her brother's business directions for nearly two decades, and the dynamics seem to be working well enough to impress WME, which also counts Novak Djokovic, Draymond Green, Lewis Hamilton, LeBron James, Cam Newton and Serena Williams among its clients.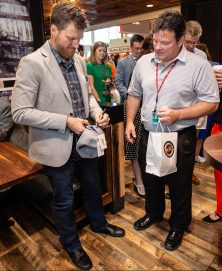 "As agents, you often times get involved with a major star and make a determination of, 'OK, who's really good on their team, and who are we going to educate and have honest conversations with someone who doesn't have your best interest in mind,'" Perry said. "When you look at his core team. Kelley could be the chairwoman and CEO of any company, racing or otherwise, in the country. We were most impressed that these were not just really good men and women in the racing world, he had exceptional people, a very tight-knit group all rowing the boat in the same direction."
But the cues now also are coming frequently from Dale Jr., who is "a lot more involved, collaborative and interested," Kelley said. "Before it was just tell him what you were doing and tell him when to show up."
Letarte, who will be reunited with Earnhardt as an NBC co-worker after guiding him as his crew chief from 2011-14, said Earnhardt is more calculating than some realize with his business acumen.
"Dale is one of those guys who has a very original brand because it's who he is," Letarte said. "He doesn't try to be anybody but himself. I think that makes him very comfortable to be his brand because it's not make believe; what you see is what you get.
"With that said, the success and reach of the brand isn't by just dumb luck. I think he's way smarter than that. I don't know if they're all his strategies or if he's smart enough to surround himself with people and empower people to spread his brand. I think Dale has a vision, more than anything, of surrounding himself with smart people believing in their vision."
Dale Jr. laughs when asked about what kind of businessman he is.
"Shoot, I don't know," he said before a long pause. "I like to have success. Just like you do on the racetrack. I think it's real similar as far as I'm competitive. I hate losing. I like to be the best at whatever business we're doing, whatever we're trying to accomplish. You want to win."
That was driven home two months ago when he was the featured speaker for a Chevrolet dealership convention in Las Vegas.
"They entertained the top 250 managers from the top 250 dealerships across the country, and we're not there," Earnhardt said. "I want to be there."
How close is Dale Earnhardt Jr. Chevrolet to being there? Earnhardt, who visits the Tallahassee showrooms at least twice annually to support his staffs, shrugged as he hops out of a van and heads for a door leading to the Whiskey River grand opening.
"That's a good question, and I just know we weren't there," he said. "We should be. And our dealership does great. I try to see everybody, show my appreciation and come across as appreciative to the people doing the work.
"But you got to win. You've got to want to win — and kick some ass and everything."