In Leading the Way, NBC analyst Steve Letarte shares behind-the-scenes stories of one of the most successful rebuilding projects in NASCAR, turning the sport's most popular driver, whose confidence bottomed out amid questionable work habits, into an assured and diligent championship contender.
Letarte tells NBC Sports' Nate Ryan of the never-before-revealed fierce arguments, lighthearted moments and unbridled joy shared with Dale Earnhardt Jr. in a four-year, cross-country odyssey from the highs of a magical 2014 Daytona 500 win to the lows of a career-threatening concussion.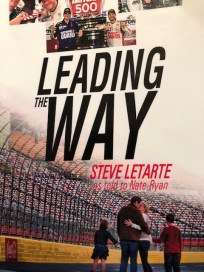 You can order the book at SteveLetarte.com, Amazon.com and barnesandnoble.com.
In this excerpt, Letarte goes back to the 2012 Father's Day weekend at Michigan International Speedway that saw tumult and tempers inside the No. 88 hauler as the team struggled. This was the first event at the repaved track. Speeds were over 200 mph. Tires were blistering. Goodyear brought in a new left-side tire during the weekend and a practice session was added to help teams adjust. Frustration was high. 
The final practice happened after the Xfinity race, which made it a major inconvenience, because it kept us in the garage for about four hours longer than normal.
The June race at Michigan usually falls on Father's Day weekend, and Motor Racing Outreach, a traveling race track ministry, holds a Father's Day Olympics for the families of the drivers, crew chiefs and team members. My wife, Tricia, and my kids were staying with me that weekend.
The Father's Day Olympics is a family competition that consists of relays, games, nail painting, and other funny, goofy things that the dads do with their kids.
And now I wasn't going to be able to make it, even though it was starting after the last practice. We had to scramble to get the car ready for Sunday. The garage was staying open longer, and as long as it was, I had to be there with my team to work.
So I had to tell my family Friday night that I couldn't be there the next day, which was one more thing weighing on me.
It was like we went from a relaxing vacation at a nice resort to our room not being ready and them losing our luggage.
Everyone was just mad. And then Dale and I had our biggest meltdown ever during the final practice.
He already was angry because he wanted to run more laps and tune the car, and I told him that we had to focus only on scuffing tires because it wouldn't matter how fast we were if we blew a tire.
As a crew chief, sometimes you have to be the dad and send the kids to bed when they want to stay up. You don't want to do that if they're having fun playing Monopoly, but it's your job.
So that was the deal as I made him scuff tires for the race. When we were done with that, he wanted to make a twenty-lap run and figure out what was wrong with the car's handling. "No. Dale. I have (Director of Engine Operations) Jeff Andrews saying we can't. We're out of laps."
So now Dale was madder than hell that we couldn't go back on the track to improve.
"How are we supposed to get ——— ing better if we can't practice?"
"This isn't my decision! It doesn't matter how fast you are if this son of a bitch blows up either! I'm dealing with what is coming my way."
So Dale came flying into the garage stall at one hundred miles per hour, nearly running over people, and threw the steering wheel on the dash as pissy as he could. As he got out, I tried to stay calm, trying to do the right thing.
"Okay, we'll make a couple of changes and make a couple of laps."
Dale was bitching on his radio the whole way back to the garage from the final run. I climbed down from the roof of the hauler and went right to the lounge to wait for him. He stormed in and started crucifying me.
I told him we needed some time apart, but he just stayed on me. So finally, I snapped.
"You are not ——— ing helping the situation! So I'll see you at the debrief."
The Hendrick debrief with all four drivers and crew chiefs was an hour after practice.
Dale kept talking a little bit, and I looked up from my laptop.
"We're ——— ing done here. You can go. Matter of fact, you need to go. You have a bus. Get out of my trailer. I'll see you at the debrief."
Instantly, you could see the look on his face that he had no idea what all that meant. I'm normally the jovial guy who never loses his temper. It was kind of like when Rick Hendrick slams his hand down in a meeting — it gets everyone's attention.
Dale had never seen me get to that moment before. It reminded me of making the 2011 Chase at Richmond when (Hendrick Motorsports President)Marshall Carlson had to talk me off the cliff. I was at that point again, but Dale wasn't in the car; this time, he was right there with me, and he could see it.
No one was blaming anyone by name, but the actions seemed like people were being blamed. The way he was treating me, I reacted to it.
How dare he say this was my fault? We brought a fast race car, and then Goodyear changed the tire. So, we had to scuff more tires and couldn't work on the car because of the engine restrictions.
How dare he cuss me up and down about fixing this car? I'd had enough.
When I got to the debriefing, Dale was the first guy there. (Vice President of Development) Doug Duchardt later told me he had arrived ten minutes earlier.
That was where our friendship really helped. We didn't make it personal. He respected me enough, so we sat down and talked and talked and talked. And we learned … nothing.
I would love to tell you we solved it, but when we got done, I was no smarter than I was during the middle of our disastrous practice.
The silver lining came when I got back to my bus. TJ Majors, Dale's spotter, had taken my place in the Father's Day Olympics, and he was there hanging with my family and laughing about having his toenails painted pink and his feet painted green with a big 88 painted in black.
TJ had heard I was going to miss the Olympics, so after returning from practice, he went and did all the games, relays and toe-nail-painting with my kids. I'm sure he had many other things he wanted to do on a Saturday, but that was the environment we created around our team.
He played along and said, "I'll do it," because he wanted to take whatever pressure off me that he could. He was the stand-in dad that day for my kids, and they were so thankful. My son actually won the Olympics in his age group with TJ's help.
Later that night at my bus, my wife, Tricia, could tell something was up and asked what was wrong.
"We're awful. We're going to be lapped at, like, Lap 10. We're not even close."
Tricia said she couldn't recall me ever saying something like that before. Usually it was "We're not that bad. We just have to get this a little bit better."
Not this time. There was no sales pitch here.
"We're miserably slow."
"Oh my goodness," she said.
*****
They dropped the green, and we sank like a stone.
But it was because Dale knew the car wasn't great, so he wasn't going to crash it. This is what makes him so special, and sometimes irritating at the same time. He has this calming mind-set that he knows how long four hundred miles is better than anyone.
Dale isn't going to crash the car even if it's handling poorly. Years before, he might have, but now we've built up the accountability side, so he knows that's on him, no matter how badly the car drives. I'd beaten it into his head. "Look, you've just got to get me to the next pit stop so I can work on it. The car does me no good if it's in the fence."
It was like all the things we had built up and worked on were tested over the course of that weekend. We failed one of the tests with that meltdown, but it ended up working out all right.
On the first pit stop, we stuffed a spring rubber in the left rear, and the car settled. And then it was just smart pit strategy. We changed left-side tires only once, after the mistake at Pocono, we did whatever was necessary to be the leader.
We took the lead from Tony Stewart just past halfway, and then we were gone. We won by 5.3 seconds, an eternity in NASCAR. Dale told me afterward, "I just got out front, and I couldn't see anyone behind me. It was nice and easy."
The whole weekend was surreal. The best moment for a crew chief is when you stand on top of the pit box and watch your team celebrate as the car crosses the finish line.
Those guys on the team are gone as much as I am, but they don't enjoy the same lifestyle — there is no one cleaning their house or pool or yard. I've asked those guys to give and give and give. That is the moment that it makes it all worth it doing what we do.
And that it worked out that I had my family there on Father's Day (and Dale had his future wife, Amy, too) made it even more spectacular.
But the odd part looking back was, around the same time, I realized I wasn't long for remaining a crew chief. Racing is like golf in that there are forty competitors, and while Jimmie Johnson may win five races a year, a typical racer wins once or twice a year.
You lose a lot more than you win, and all those weeks in between have to build up for that moment that you have success.
Don't get me wrong, the world rejoiced, and I was happy. I don't think it showed publicly, but privately, I knew that the moment, our first win together and Dale's first in a career-high 143 races wasn't as big as it needs to be. It was a bigger moment for everyone else.
The win didn't move the needle for me as much as it should have. The was when it became clear to me that I wasn't going to be able to do this forever.
All that was wrapped into one race.
You can order the Leading the Way at SteveLetarte.com, Amazon.com and barnesandnoble.com.