Hailie Deegan and Will Rodgers are different, from each other and the typical NASCAR driver.
Of the nine NASCAR Next members revealed May 15, Deegan, 16, is the youngest and Rodgers, 23, is the oldest.
The daughter of action sports star Brian Deegan and a mother whose "full-time job" is taking her to races, Hailie is a Southern California native who came to NASCAR from off-road racing. She listens to rap and hip hop.
Rodgers, whose father owns a brewery and his mother is a clinical social worker, was born in Hawaii and has competed in sports cars, motocross and off-road racing. He listens to classic rock and punk rock.
The two drivers have one thing in common.
They have Kevin Harvick in their corner.
—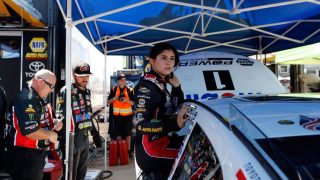 Hailie Deegan has a brief audio recording that she's listened to a handful of times.
It was recorded minutes after the conclusion of her K&N Pro Series West debut on March 15 at Kern County Raceway Park in Bakersfield, California.
The recording is of her father, Brian Deegan, talking to Harvick, who was fresh from finishing fourth in the race.
The 2014 Cup champion told Brian Deegan he was impressed by his daughter's performance. She finished seventh in the 175-lap race after starting eighth. Harvick said he'd keep in touch with them.
"He still does to this day, which is really cool," Deegan told NBC Sports. "He always asks how I'm doing at the track, how I am doing compared to the other competitors, which is really cool on a personal level and I think that it was just something that's not a confidence booster but a motivator."
The day after the Kern County race, Harvick was asked at Auto Club Speedway what driving talent he'd discovered in the race.
He singled Deegan as having the "most potential."
"I think as far as potential and reach and racing knowledge and getting in the car as young as she is, that would be the one I would pluck out of the series and say that's the one we want to be a part of," Harvick said.
Since then Harvick has had Deegan on his SiriusXM NASCAR Radio show "Happy Hours," she's graduated from high school and earned her first two top fives on May 19 at Orange Show Speedway and June 9 at Colorado National Speedway. She's seventh in points through five races.
Harvick reaffirmed his praise of her after he won last month's All-Star Race at Charlotte Motor Speedway.
"I think Brian is really good for her because of the fact she just needs to go race and learn the ins‑and‑outs, get with the right situations as she moves up, not move too fast," Harvick said. "She has the most potential of a female racer because she gets it. She's very into what she's doing. It's not about everything else. It's really about the race car and 'How do I drive it faster?' She's just got her stuff together."
As the only woman in the NASCAR Next program, which highlights up and coming drivers in stock car racing, Deegan recognizes that NASCAR is a sport in search of "something unique" to build its future on.
"I know they're looking and searching for these aspects of, their fan base right now is all these people, these older generations and right now they're looking for the new, hip generation of kids and teens coming up," Deegan said. "The NASCAR Next program kind of plucks those kids out and sees these people with personalities and (who) want it that bad and are willing to do the off-track work, and I think that's what NASCAR needs right now."
Does Deegan consider herself hip?
"I don't know if I consider myself hip, but I consider myself different."
—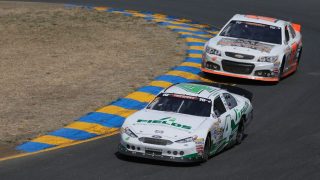 For Rodgers, the most surreal moment of last June's K&N West race at Sonoma Raceway was when spotter Rick Carelli came over the radio in the closing laps.
"Third place is nowhere to be found," Rodgers recalls Carelli saying.
It was just Rodgers and the leader.
The leader was Harvick, who was making his first start in the series since 2007.
"Oh my gosh, we're running toe-to-toe with a Cup champion right now," Rodgers thought at the moment.
The race, essentially at Rodgers' home track, was the one his team "had been building up to all year."
He qualified on the pole. Harvick started sixth.
"Now if you had told me I would race toe-to-toe with Kevin Harvick all day, that might have been a scenario again where I wouldn't have believed you," Rodgers said.
Harvick won the race, but he made sure to bring attention to Rodgers, who like Deegan, he had as a guest on his radio show.
"Being able to race toe-to-toe with Kevin and pull away from everybody else in the field and then for him to get out of the car and rave about me was very unique," Rodgers said. "I'd say that's definitely the best second place I'll probably ever get."
Harvick then went out of his way to celebrate with Rodgers in victory lane two months later when Rodgers earned his first career win in the K&N East race at Watkins Glen.
Rodgers also tries to keep in touch with the SHR driver despite his busy schedule.
"Whether or not Kevin has a hand in (NASCAR Next) personally, just by him being an advocate for me and then voicing me to the media, that has really opened the eyes and ears of a lot of people within NASCAR, within the industry, sponsors," Rodgers said. "It's helped on many levels. … My credibility has just been elevated so high after he said those things."
This season Rodgers has competed in four of the first five K&N East races, earning two top 10s. He's also earned two top 10s in four ARCA starts racing for Ken Schrader.
Harvick expects Rodgers to continue to rise if given the opportunity, especially when it comes to road course racing.
"I don't think anybody would have known Will Rogers' name if we hadn't run the K&N West Series race last year," Harvick said after his All-Star win. "He's got his stuff together. He just needs an opportunity to come out and show what he's got. When the road course stuff shows up, Will is probably capable of being in an Xfinity race or a Cup race. In the right equipment on a road course, he'd be a top-10 competitor."
Harvick has only competed in two K&N races in the last year, but each one has benefited someone else.
"It's interesting to see," Harvick said. "That's really been our goal running the K&N races, is to expose those drivers to get opportunities. Just glad that it's working out for a couple of them."