Joey Gase is using his paint scheme for the Sept. 1 Xfinity race at Darlington Raceway to honor the racing career of his father, Bob Gase.
Through a fan vote last week, The Go Green Racing driver allowed his followers to choose between two paint schemes inspired by his father's career when he raced at their home track of Hawkeye Downs Speedway in Cedar Rapids, Iowa.
They could choose between a 2003 Purple & Black Modified scheme or a 1994 Blue & White Late Model.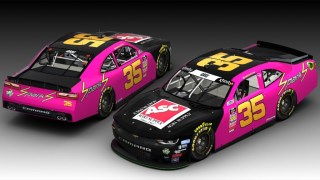 When the vote was closed, the 2003 Black & Purple Championship Modified scheme won out.
"I couldn't be happier to be running this scheme," Gase said in a press release. "This is the scheme I think of the most when I think of my dads old racing days and I had a lot of fans reaching out to be saying the same."
Gase is competing full-time this season. Through 13 races he is 20th in the standings.
His best finish is 16th at Bristol and Auto Club Speedway.