Imagine doing one activity.
Then picture doing that activity religiously, 1,000 times from February 1963 to June 2018.
Joe Baumann is preparing fulfill that this weekend at Michigan International Speedway when he attends his 1,000th NASCAR Cup race.
Baumann, 79, is a native of Erie, Pennsylvania, and owner of a carpeting and flooring company, something his family has done since 1885.
But Baumann has made NASCAR his weekend business.
After getting out of the Navy in 1960, Baumann had his own brief racing career until life got in the way.
"I raced a couple of years in late models at our home track here in Erie," Baumann told NBC Sports. "Went into drag racing a couple years after that. Started having a big family and that was the end of everything. I become a spectator because I figured there's no way I can afford a family and the cost to race race cars."
Baumann's first time in the grandstands of a NASCAR Cup event came at the 1963 Daytona 500, when Tiny Lund won for the Wood Brothers.
"I loved what I saw when I got to Daytona," Baumann said. "I'll never forget it."
Baumann has seen everything in the 998 races that have followed.
It's documented in the couple hundred race programs that line his office and in the diary he decided to start keeping about a decade ago.
Baumann was there in 1969 when Talladega Superspeedway opened its doors for the first time.
He was also present in 1996 when North Wilkesboro Speedway said goodbye to NASCAR racing. He has "everything from the last race there," including commemorative hats, unused tickets and the program.
Just a year before he experienced his "all-time No. 1" race.
You may have seen the highlights, but Baumann was sitting in Turn 3 of Bristol Motor Speedway the night of the 1995 Food City 500.
"Dale Earnhardt. Terry Labonte. Unfriggin' believable," declared Baumann, who was an Earnhardt fan. "I'll never forget it. (Earnhardt) got black flagged at least twice, maybe three times for rough driving. They sent him to the back of the pack and oh my God, he was hell-bent to get back up front again. He did and it comes down to the last lap and they come off Turn 4 just slam banging each other, side by side and Earnhardt smashed him sideways.
"… I think the people went completely crazy. It was just phenomenal.
"That was tops."
Baumann racked up races in the 70s, 80s and 90s while owning permanent seats at 10 tracks that hosted two races a year, including Bristol, Rockingham, North Wilkesboro, Atlanta and Talladega in addition to his visits to other tracks.
In 2004, he put a big dent in his total by attending all 36 Cup races, from Daytona to Homestead, with roughly 100 friends joining him over the course of the year.
At his peak, many race weekends saw Baumann and a group of six to 12 friends make the pilgrimage.
"Most of us worked six days a week, we'd leave Saturday night," Baumann said. "We would leave Erie and drive straight to the track."
One track, the one in South Carolina that's Too Tough to Tame, really spoke to him.
Since 1964, when Buck Baker won in Baumann's first visit to Darlington Raceway, he hasn't missed a Southern 500.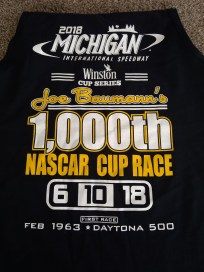 "The people and the good-hearted racing, it was just amazing they could run 500 miles at that speed and then it had the full metal roof over the top of the whole front straightaway and that made it even worse on your ears probably," Baumann said. "I thought, 'I'm not going to miss one of these things.' Back then tickets were like $10 or less and fuel was reasonable. We took a half a dozen guys, normally starting with a pickups truck, campers and things like that to go down. Motels in that day and age were few and far between. … Then my wife (Jackie, who passed away in 2015) got interested, so then her and I started going together. Next thing you know we got into motor homes and things like that. … It's a great weekend now and everywhere we go it's the same way. NASCAR people are just unbelievable."
Baumann's dedication to Darlington was rewarded last year when he was one of three people inducted into the track's Fan Hall of Fame.
"That was pretty neat. They took care of me," Baumann said. "The ring is like a Super Bowl ring."
Baumann, who named his youngest daughter Allison after his favorite driver, Bobby Allison, and his youngest son Cale after Cale Yarborough, wanted his 1,000th race to come at Darlington.
But knee-replacement surgery last year shortened his schedule.
Instead, he'll reach the 1,000 race mark Sunday with the FireKeepers Casino 400. The drive to Brooklyn, Michigan, is a much easier trip for the roughly 50 people who will camp with him for the weekend.
What festivities will there be to mark the occasion?
"My friends are full of surprises, believe me," Baumann said. "Something's going to happen."