CONCORD, N.C. – When he left his general manager position at Hendrick Motorsports a year ago, Doug Duchardt was interested in staying in the front office.
But not necessarily in NASCAR.
The longtime St. Louis Cardinals fan "looked pretty hard at Major League Baseball" for a few months before starting his new job as the chief operating officer at Chip Ganassi Racing in January.
"I had discussions with a few clubs and got close with a couple, but it just didn't come through," Duchardt told NBC Sports.com in a recent interview at Chip Ganassi Racing's NASCAR headquarters north of Charlotte, North Carolina.
It would have been quite a reset after a three-decade career of working in the automobile industry (primarily in racing, starting at General Motors before moving to Hendrick in 2005).
"In the front office but a much lower level," Duchardt said. "I understood I wasn't going to come in as the general manager of a baseball team. I'm not smart enough for that. It was something new to challenge myself. Go find something you like and learn about it.
"I don't regret pursuing that at all. I met some really interesting people and had a great time learning more about a sport I love. I think anytime you get to interact with leaders of other sports, you learn from them, even though you may not think it's applicable to a race car or race team. Inevitably, leadership and how you approach things and your culture, company, all those things apply. Whether it's baseball, football, basketball, racing. Any company you have, you have to build a culture, and have people buy into that and move forward."
During the job search, several lessons came from one Major League Baseball GM whose team has produced many executives who became GMs at other teams.
"I don't know if I want to name the name, but it's someone who has been in baseball a long time," Duchardt said. "And what became evident in my discussions with this person is their openness to someone who didn't grow up in the game and was more interested in building a culture with the right people other than necessarily someone who grew up in the background. It was just a different philosophy."
And an approach that might have landed him a baseball gig.
"That's what I was hoping," Duchardt said. "But I completely get it. If you're at a club and grooming people to come up through their system, and you've got a plan and how that's going to proceed, and here comes a guy who is working on race cars, how is this going to work?
"I was hoping to bring a unique perspective. As technology increases in baseball, coming from a sport that is extremely dependent on technology, and I had managed technology for many years, specifically at Hendrick, that I could come and help that.
And did he talk job opportunities with his favorite team?
"Briefly," Duchardt said of the Cardinals. "I've got a ton of respect for that club and how it's managed. They have plans and people in place.
"I really didn't look at it like that. I was just wanting to find something that was going to get me out of my comfort zone."
His return to that comfort zone has gone well at Ganassi, which has the series' top-ranked Chevrolet in Kyle Larson's No. 42 (ninth in the points standings) and just earned its second top 10 with Jamie McMurray's No. 1 (sixth in the Coca-Cola 600).
Here are highlights of the interview with Duchardt, who reflected on his time at Hendrick (which announced his departure on June 6, 2017), managing a team across multiple racing series and on the challenges of the new Camaro:
Q: What was the impetus for your first break from racing in more than 30 years?
A: "When I decided to leave Hendrick, it was for professional and personal reasons. I was just ready to look to do something different. So, I took the time to do that. I just unplugged. I went and played fantasy baseball at Cooperstown. I helped my daughter get acclimated in her new job in New York. I was looking at opportunities outside of NASCAR. That's really where I thought I was going to land.
"Chip called about coming here. Chip and I had known each other a long time from when I was the NASCAR program manager at Chevrolet, and he was coming into NASCAR. Of course at Hendrick, we were supplying engines, and I got to know him through that relationship. I felt we always had a good rapport. He talked to me about coming here, and it really appealed to me because he competes in three racing programs. It allowed me to get back into racing that I really enjoyed when I was at General Motors and had the director of racing jobs. The fact it was a different role than just competition, so managing across the company. I felt like it was going to be something new and a challenge."
Q: How is the new job a different challenge from the competition-focused general manager role at Hendrick?
A: "The title is COO, so it's competition and all business operations. So basically run the company. That's the revenue side, supporting sponsors, public relations and all the competition. There are two facilities, one in Concord (NASCAR) and the Indianapolis facility with the two IndyCar teams and the two sports car teams.
Q: Did you have an MBA to prepare for the business side?
A: "I went to Sloan School of Business at MIT and did some executive education courses. But I never got a formal degree. I got a certificate. Specifically in different areas I felt like I needed to learn if I wanted to grow from competition to a bigger role. So that's been good. It's been a challenge. It's new. It's different. I'm not day to day worried about the new Optical Scanning Station. Someone else is worrying about that."
Q: You left Hendrick near the midpoint of what was a tough season for that team. Were those results a factor in your departure?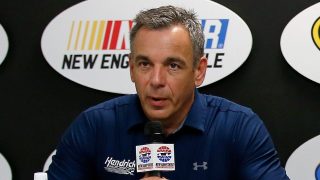 A: "When I was looking at (the move), what's the right timing for that? For me to wait through the whole year would not be fair to the company because the time for the general manager or management role at a race team to be locked in is when the season ends. You have to plan for next year. To me, the minimal disruption to them was for me to leave, and I just felt that was the right time. It gave them time to reorganize, put people in place and be ready to assess and adjust whatever they had to do in the offseason next year.
"I have nothing bad to say about (team owner) Rick (Hendrick) or (team president) Marshall Carlson. They were nothing but supportive of me when I made my decision. Rick didn't want me to go. I'm still great friends with him. I'm really proud of the work I did there with them. It's a hugely talented group. I was blessed to be there for the 12 years I was."
Q: Does the pride stem from being there for seven championships with Jimmie Johnson?
A: "Here's the thing about that. When you're in a senior management role, you're trying to build an environment for people to succeed. And so, when you have really talented people throughout the organization, including a driver and crew chief combination that locked in, it's hard to say what you did or didn't do to help that. I'm smart enough to know and humble enough to know that hopefully I helped. I tried to help. Or I was just right place, right time. Whatever it is, I'm blessed and thankful I was there when it happened. It's made for great memories."
Q: Are you pleased by Ganassi's start to 2018?
A: "When I started here, the NASCAR program obviously was going in the right direction and has been successful in the past two years and continues to perform well. We've been close to some wins. The group here has done a really good job of building a tight-knit two-car team that is focused and working well together. You just try to focus on the fundamentals and keep learning and getting better, and the rest will take care of itself. From my standpoint, I haven't said or done much other than reinforce the importance of communication and working together.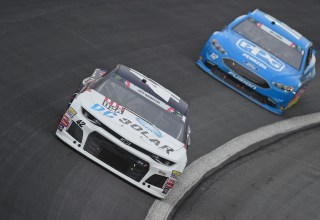 "From the IndyCar and sports car side, the first part has been learning those series again. Before the season, I was trying to get to Indianapolis at least once every other week. Get caught up with (IndyCar president of competition) Jay Frye. So it's been fun catching up with friends that you've had from before, and they're in new roles. And then learning new racing series. It's been 15 years since I was exposed to IndyCar and sports car, so it as fun getting back in that.
"I always said if I went back to being director of a (manufacturer) racing program, I could do my job so much differently. Because once you've understood what is happening day to day (at a team) — what is going on to get to the track and operate, execute and succeed – it really helps."
Q: What decision-making are you involved in with IndyCar and sports car?
A: "It's more of long-term planning and structurally looking at things. That's all this sport is. It's all continuous improvement. Always how to get a little bit better. Whether week to week or long term. Chip's organization started with IndyCar. It's got a lot of history, a lot of longtime employees. They've been around the sport a long time. They have a lot of experience to lean on and know the paddock well there. You lean on them and then start talking about what their needs are and what they need next, and then you start working on that."
Q: On the NASCAR side, are there advantages to having two cars vs. four?
A: "There are advantages and disadvantages. The four-car team lent itself to having more resources. It's more difficult to manage and align because there are four opinions vs. two. There's always pros and cons to everything."
Q: Why have the Chevy teams seem to have had some growing pains with the debut of the Camaro this season?
A: "There are two variables: The new car and the new inspection system. That's the two variables that Chevy are dealing with, and Ford and Toyota teams just dealt with the new inspection system. And so we're working hard to continue to evolve and develop the car. Kyle's been competitive at intermediate tracks. Certainly we're not where we want to be yet, but we're working hard to get there, so NASCAR has a process to put those cars through and approve, and we went through it. I feel like the fundamentals are there to make that car successful, and we've just got to keep working on it to get there. We're just a third of the way through the season, so things can change a lot by the time we get to the playoffs.
Q: The Camaro was designed and developed ahead of the Optical Scanning Station this year. Did that have an impact?
A: "We knew that was coming, and then what we didn't know was the tolerances (NASCAR officials) were going to hold us to. I wasn't (at Hendrick) in the middle of it anymore in the tail end of getting that car approved. My recollection was they were bringing (the OSS) to playoff races, and you could voluntarily go through to see how it worked, and I don't know how many people took that option to understand that. I just wasn't there for that.
"But NASCAR didn't say, 'Hey, we're going to have an OSS and this is the tolerance.' That's fine. It's not like the Chevrolet group knew what that was going to be, and Toyota and Ford didn't, either. It's just change. I try to put it on the engine side. I've seen it before like back in 1996, we had the 18-degree Chevrolet small block engine and the new SB2 small block. What happened was you'd developed the old 18-degree engine so long, that when you build your first SB2, it was just as good as the 18-degree. The 1998 Daytona 500 was the first SB2 win with Dale Earnhardt, but in qualifying, Gibbs had an 18-degree engine because it ran better. They qualified with the 18 degree and raced with the SB2. When you put that much time and development into something, sometimes it's hard to leapfrog it. Especially in the tight tolerances like NASCAR has. I think that's just what we're in the middle of (with the Camaro)."