PONTE VEDRA BEACH, Fla., — If life as a full-time NASCAR driver hadn't worked out, Denny Hamlin probably would be selling trailer hitches.
But his family's business instead sustained the Chesterfield, Virginia, native's Late Model career, helping secure the breaks to get hired by Joe Gibbs Racing.
Hamlin, 37, has 31 victories through 12-plus seasons in NASCAR's premier series, and though he plans to race for several more years, he eventually will retire.
What will he be doing then?
Maybe selling trailer hitches.
"I really want to run a day-to-day business," Hamlin said on the 138th episode of the NASCAR on NBC Podcast about his post-NASCAR career. "I don't want to be there at 6 a.m. and open the doors, but I want to be there 9 to 3, checking on things, running things, making sure everyone's happy.
"I just don't know what kind it is. It might be a trailer shop. I loved going to work at the trailer shop with my dad when I was 17 years old. I knew everything about the business, I knew how to sell trailers. I knew how to build them. I knew how to install the hitches, do all the wiring. I knew how to do everything in that business. Maybe that's something I go back to when I'm done."
Hamlin, who had a brief run as the owner of a Charlotte nightclub, said he will open a new hamburger joint (a Little Big Burger franchise) soon near his home in Cornelius, North Carolina.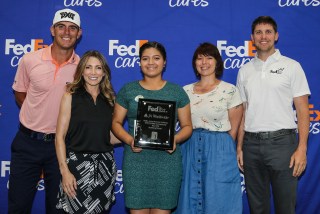 That made him a qualified candidate to help as a judge last week in sponsor FedEx's Junior Business Challenge (with Junior Achievement Worldwide). The program, which runs in conjunction with PGA Tour events, relies on a high-profile panel to judge business concepts from a group of JA students with entrepreneurial aspirations. In an event before last weekend's Players Championship, Hamlin judged entries along with Olympic medal gymnast and PGA golfer Billy Horschel (who joined Hamlin on the podcast).
In his evaluation, the 2016 Daytona 500 winner probably applied some lessons from his teenage years working for his father.
"I'd always complain to him that our business says we close at 5 o'clock, and yet if someone pulls in at 5:02 and needs something fixed on their trailer, if we're here, we're working," he said. "The hours on the door were theoretical. He was all about making the customer happy. I don't care how long it takes, we're going to stay here and finish the job.
"If we told someone we get it done on this day, then it's done. Whatever it takes. People really came back to our business a lot because of my dad and his mentality that they knew we'll do the job and fix it no matter what the hours were. That hard work was infectious and reminded me that if I ever got back into running a business it would be that type of feeling of going to your buddy's place to get your stuff fixed, not a business."
But Hamlin, who signed a multiyear contract extension with JGR before last season, said he doesn't have a timeline for when he'll return to regular hours.
"The current contract goes quite a ways, and I probably want to do one more after that," he said. "As long as I can win races, be competitive and be up front, I don't know how long I'll race.
"But I want to be busy outside racing. I'll be stir crazy. I can only play golf so much. Basketball, my body will only go so long."
In the podcast, Hamlin also discusses:
–His 2018 season, in which decent speed has been muted by a lack of execution (such as speeding penalties);
–How the professional rhythm of a golfer differs from a race car driver (with Horschel also offering his perspective);
–The return of Matt Kenseth and how JGR has adapted without him;
–What Denny would shoot at TPC Sawgrass.
To listen to the podcast, click here for Apple Podcasts, here for Spotify, here for Stitcher, here for Google Play or play the Art19 embed below: