Hendrick Motorsports announced Wednesday that the rental car company Hertz will be a primary sponsor of William Byron in four races this year and next.
In will also sponsor Byron in this weekend's Monster Energy All-Star Race events at Charlotte Motor Speedway. Hertz will serve as an associate sponsor in all other events.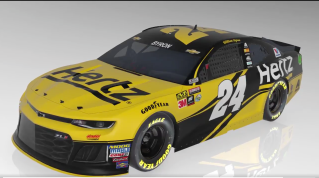 Byron, the defending Xfinity Series champion, is in his rookie Cup season. He is 19th in the point standings. His best finish is 10th at Texas Motor Speedway.
"It's really special that a leading brand like Hertz has so much confidence in me," Byron said in a press release. "It motivates me to continue working hard and doing everything I can to make sure we deliver results for them. I'm happy to welcome Hertz to the Hendrick Motorsports family and look forward to having a lot of success with them in the months and years ahead."
Byron is entered in the Monster Energy Open before the All-Star Race. Byron can transfer to the main event by either winning one of the Open's three stages or by winning the fan vote.