In Shane Lee's trophy room sits an accurate prediction of the future from the early 2000s.
On the left side of an open booklet is a crudely drawn portrait of a race car with the No. 00 on the side. The car is depicted racing along a road under yellow sun and whipping by green grass.
On the right side, on page 25 of the booklet he used in second grade, Lee fulfilled a teacher's assignment: Write what you want to be when you grow up.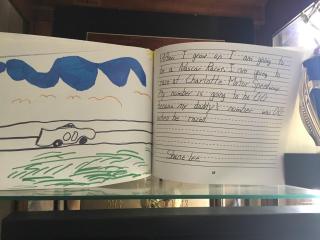 Lee wrote:
"When I grow up I am going to be a NASCAR driver. I am going to race at Charlotte Motor Speedway. My number is going to be 00 because my daddy's number was 00 when he raced."
Lee, now 24, fulfilled two-thirds of that prophecy Monday.
In two years and 30 starts in ARCA, Lee raced at other NASCAR tracks – Pocono, Michigan, Kansas, Chicago, Kentucky and even Daytona – but for whatever reason Charlotte wasn't one of them.
"I've lived 20 minutes from there and never made a lap on the track in my life," Lee told NBC Sports the Tuesday morning after he first drove a stock car at Charlotte Motor Speedway. Instead of a No. 00 car, it had come in an open Xfinity test with Lee driving Richard Childress Racing's No. 3 Chevrolet.
Did it meet his expectations?
"It had more character to it than I thought." Lee said. "Getting into both turns on that track is way rougher than it looked like on TV."
Monday's test in Charlotte was Lee's only time in the car until the June 2 race at Pocono Raceway, a track Lee made four starts at in ARCA and earned a career-best result of fourth in 2016.
Lee admitted he was "probably more cautious" than he needed to be in the test.
"Guess I had a little bit left in me to make the car go faster," Lee said. "Trying to make sure I don't happen to wreck the car they're planning on taking back for Ty (Dillon) to race (on May 26). … We went there to do what we want to do and learn as much as we could."
Lee's first Charlotte race will actually be on the road course layout in September.
On Jan. 24, RCR announced the five-driver lineup for its No. 3 Chevrolet in the Xfinity Series.
Joining veterans Austin and Ty Dillon, Brendan Gaughan and Jeb Burton was Lee.
A native of Newton, North Carolina, Lee spent the previous two seasons competing in ARCA after a few years competing in late models.
He had earned the 2012 and 2013 Limited Late Model Track Championships and been recognized as the 2013 North Carolina NASCAR Late Model Rookie of the Year. During that time he drove the No. 00, which his father Mike Lee used when he raced late models at tracks like Hickory Motor Speedway.
Monday's test wasn't Lee's first time in a Xfinity car. That came three weeks ago at Bristol Motor Speedway, another track Lee had never been on before.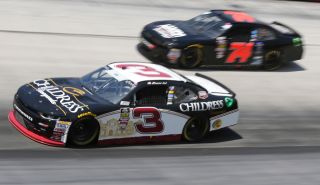 You wouldn't have known it.
"After the first day of practice I figured we'd run in the top 10 just because of how the average practice speed was," Lee said. "Everybody looked at me like I was crazy, but I thought with the Cup guys not in there, a lot of them guys are people I've raced with since I started racing. You sort of know whose going to be really good and who you're going to compete with."
Lee qualified eighth and finished eighth in Stage 1 and placed fourth in Stage 2. But with 17 laps to go, Lee lost his right front tire and brought out the caution. He was relegated to a 14th-pace finish.
Two races later, Lee was back in the No. 3 at Talladega, a track he made two ARCA starts at, finishing 11th and fifth. But after running in the top 10 most of the day, he ran out of gas as the field took the green flag in overtime. He placed 15th.
Lee thinks he's "definitely pretty quick" at adapting to new forms of racing, but said "every track's going to be different."
"Most of them will still be new tracks to me, so every time I go to the track almost (there) will be a learning curve," Lee said. "It sort of hurts, especially in the first practice with just me learning the car before I tell them what kind of adjustments they're looking for. Just making sure to yourself you're not doing something wrong to mess up the car."
Lee's learning curve is helped slightly by a two-year engineering degree he earned at a tech school in Gaston, North Carolina, before his ARCA deal came along.
"I figured I'd better have something if something don't come up," Lee said. "It helps when I look at (engineer) graphs and stuff when they're trying to explain it. Everything they're graphing, the data stuff we're looking at is stuff I'm used to seeing, even though it's in different words. It helps out on that part pretty good."
While he uses his engineering education to work on his own late model stock car, Lee would like to never have to get his four-year degree and have to use it outside racing.
"Hopefully the racing works out," Lee said, "so I don't ever have to apply it."