CONCORD, N.C. — Matt Kenseth will return to NASCAR this weekend at Kansas Speedway, and the driver he is at least temporarily replacing in the No. 6 Ford will be there, too.
In a Tuesday morning interview at Roush Fenway Racing, Kenseth told NBC Sports that he expects Trevor Bayne will be at Saturday night's Cup race.
The two met in person Tuesday at the team's shop for the weekly debrief, which Bayne commutes to from his home in Knoxville, Tennessee.
"I talked to Trevor on the phone the other day for half-hour or hour; had a good conversation with him," Kenseth said. "Look forward to seeing him today.
"I think that he's fine with me. We had a really good conversation, actually. I'm looking forward to working with both of them. If you're another driver filling in, it's obviously not the driver's decision, it's an ownership thing. So certainly I don't think Trevor and I have any problems at all."
The 2003 champion, who also had lunch with Roush teammate Ricky Stenhouse Jr. last week, has been confirmed in Bayne's car for Kansas and the next week at the All-Star Race, but Roush hasn't announced the No. 6 driver lineup for the rest of 2018.
According to two people with direct knowledge of the schedule but who spoke on the condition of anonymity because they weren't authorized to speak publicly, Kenseth will drive in at least the next five race weekends – Kansas, the All-Star Race, the Coca-Cola 600 at Charlotte Motor Speedway, Pocono Raceway and Michigan International Speedway.
In an April 25 news conference to announce Kenseth's return, Roush unveiled Wyndham Rewards/Wyndham Hotels as his sponsor for select races.
There is a one-week break in the schedule after Michigan before the circuit returns June 24 race at Sonoma Raceway. In February, Roush announced the No. 6 would be sponsored by AdvoCare at Sonoma and in the July 1 race at Chicagoland Speedway. Because of his tight relationship with AdvoCare, it's expected Bayne will be in the car for those races.
Asked about his upcoming schedule, Kenseth said, "I'm running a good chunk right in a row, then it's sporadic after that."
Kansas will mark Kenseth's first Cup race since finishing eighth in last year's season finale at Homestead-Miami Speedway. He joked "what rust?" when asked how he is preparing after missing the first 11 races of 2018, adding he hadn't spent any time in a driving simulator for this weekend.
"I haven't done anything," he said. "I was thinking about doing the Xfinity test Monday (at Charlotte), but everything is just so different other than driving anyway.
"I'm not super worried about that. I guess things you probably worry about is being in a different (team) than I've been the last five years. Just everything fitting right, feeling the same. That type of thing. I'm used to having the same brake system, steering, same guy doing my interiors. All that stuff is probably what I worry about more than 'rust.' That's a few laps, and it feels normal."
But it probably is the longest stretch between races in more than 20 years for Kenseth since the 46-year-old was running Late Models in Wisconsin in the mid-1990s.
Kenseth, who drove at Roush from 1998-2012 before spending the past five seasons at Joe Gibbs Racing, also attended his first debrief with the team Tuesday.
"I've been reading a lot of notes and looking at a lot of stuff, so I'm somewhat up to speed," he said. "As much as I can be without driving yet."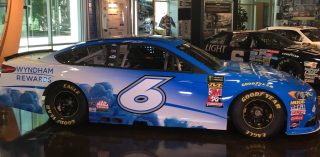 He said he wouldn't be arriving with any setup or technical ideas from his last stop.
"I don't have any of that stuff, and I wouldn't bring it any way," he said. "It's not really the way I do things. Until you get in the car and get going and get a feel for everybody, I have no clue where we're at until we get on the track and get going from there. So I don't have a lot of ideas until we really get going and get through Friday."
Kenseth also will be learning a new team this weekend. He said he worked an Xfinity race with crew chief Matt Puccia "many moons ago" but knows him well as a longtime Roush employee.
"I think the goals are the same as everywhere," he said. "You want to win, you want to make everything better. I think Ricky is showing a lot of speed this year at a lot of different places. He doesn't have all of them translated into finishes, but he's been pretty fast at a lot of places. His team has been really good. Feels like they're definitely on an upswing. It's hard to evaluate a lot of that until I get really more ingrained in the system, and that's hard to do until you get racing a few weeks."
Though he won at Phoenix Raceway last season in his penultimate start of 2017, the expectations at Kansas will be modest for Kenseth, who joked he will "go around in circles as fast as you can. Some things never change.
"I can't say I have a particular (finish) in mind," he said. "Obviously I want to go there and learn as much as I can and be productive and not look stupid when you get back in the car the first time. You want the weekend to go smooth, and you want everything to go right. Especially Friday. Anything can happen on race day. I have a little bit anxiety about Friday just not being in the car and making sure everything is going to fit right, the dash is right, working with the spotter.
"All those things give you a little bit of anxious moments until you get through Friday. So I'm looking forward to getting through practice and getting qualified and getting ready to race from there."
His record at Kansas – two wins and 13 top 10s in 24 starts on the 1.5-mile oval – also offers some confidence.
"I'd like to go there and start off strong and run strong, but it's hard to know what to expect until you get in the car and actually drive it," he said. "It's impossible to even predict if we're going to be 25th or fifth. I don't have any idea until I get in the car and get to working on it and go from there and see where our speed is."