In Victory Lane after Saturday's Xfinity Series race at Talladega Superspeedway, an elated and soaked Spencer Gallagher looked into a TV camera and declared:
"When I get home we're going to party like it's 1999!"
In the hours that followed, the beer flowed on Talladega Boulevard. The GMS Racing driver eventually found himself sitting behind a table with a meme-inspired sign that read, "I have the best signature in NASCAR, change my mind."
Gallagher had grabbed hero cards from every "nook and cranny" he could find "because I knew I was going to need them all."
He proceeded to sign between 100 and 150 cards for fans.
"Something I've always been very proud of is my signature," Gallagher told NBC Sports. "I like it about me. I love signing for people. I figured that would be a good little piece of signage to bring the fans in and get something in their hands."
Roughly 11 hours after winning his first career NASCAR race, the 28-year-old driver was the last one standing.
Alone in his RV at 3 a.m., Gallagher did two things before passing out.
He played Super Mario on his Nintendo Switch and scoured the Internet for any video clips he could find of a race and a day he will "treasure for a long time."
"That was my night," Gallagher said. "I regret nothing."
NO SLUMP HERE
Before sleep claimed him, Gallagher watched the final two laps of the Sparks Energy 300 overtime finish between eight and 10 times.
"It doesn't get old," Gallagher said. "Every second of that clip I can remember now what I was thinking in that moment and what I was trying to go. It's just so great."
Though it may have felt like it in the general chaos Talladega creates, Gallagher didn't come out of nowhere to win.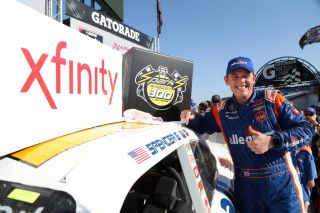 Gallagher qualified third earlier in the day, his best qualifying spot of his career. He finished Stage 2 in second behind Elliott Sadler.
His win in the 115-lap race was his fifth top 10 through nine races and his second top five in the last three races. The first came at Bristol, where he finished fifth and qualified for the Dash 4 Cash the following week at Richmond.
It's an impressive three-week stretch for a team that only claimed one top 10 last year in its first season of Xfinity competition.
Gallagher realized his team was trending upward following a race he considered disappointing.
"Ironically, it actually occurred to me in Phoenix," Gallagher said of the race where he finished 14th. "I really wasn't that happy with the car that day. But it had popped in my head that really, I felt that it was really an off day for us. If that can be our off days and we still pull out a top-15 finish, we might be on to something here. That's the name of this game. You have to be up front and you have to race hard and bring home good results. But there's an element of consistency to it. If you can have a bad day and still finish around the top 15, top 10, you're doing something right in this business."
Another measure for his team's progress is Sadler, who said after Saturday's race that Gallagher was one of the most improved drivers from last year.
Through 10 races, Sadler and Gallagher have the best average finishes among full-time drivers. Sadler's is 4.9 and Gallagher's 9.8.
"I think a lot of it is experience, getting to work together in our second year as a team," Gallagher said. "I like to think a lot of it is the lumps we took the first year."
In his rookie season, the No. 23 team had eight DNFs and finished better than 14th twice.
"We learned the hard way; we didn't want to have another year like that," Gallagher said.
The sophomore driver credits crew chief Chad Norris, who joined the team this season after two seasons working with Brennan Poole at Chip Ganassi Racing. He has four wins in 224 Xfinity races since 2005.
"He's really been a big element in turning this program around and making it into a competitive worthy team in a NASCAR national series," Gallagher said.
ONWARD
It wasn't until Sunday, after Gallagher was drug from bed around 11 a.m., that it occurred to him the lap he led to win the race the previous afternoon was his first in 49 Xfinity starts.
"It's not really something that crosses your mind, you're just happy you got to lead the right one," Gallagher said. "Hopefully it's the first of many more."
Then, remembering he qualified for the Dash 4 Cash this weekend at Dover, Gallagher had a second thought.
"It's great there's a trophy in my motor home right now. How am I going to bring these guys $100,000 at Dover and do it again?" recalled Gallagher.
"It's true you get that monkey off your back," Gallagher said. "Nothing will ever feel so good. But what people don't tell you is that immediately after that comes the hint of, 'How do we do this again?' Then the cycles starts all over new."
UPDATE: On May 2, four days after his Talladega win, NASCAR announced Gallagher had been suspended indefinitely for violating the sanctioning body's substance abuse policy. The penalty will cost him a spot in the playoffs. Gallagher has agreed to participate in the Road to Recovery program.