Noah Gragson admits he was a bit full of himself when he made his Camping World Truck Series debut in 2016 at ISM Raceway.
"I won a couple of K&N races, I thought I was going to be one of the top dogs and be competing for the win and that just didn't happen," Gragson told NBC Sports of the race where he started 14th and finished 16th.
Things started better for the 19-year-old driver in the Xfinity Series. The Las Vegas native, who competes full-time in the Truck Series with Kyle Busch Motorsports, made his debut last weekend at Richmond Raceway with Joe Gibbs Racing.
As part of a three-race deal, which continues this weekend at Talladega, Gragson started 11th, led 10 laps and fought teammate Christopher Bell for the win before placing second.
"I told myself before this weekend, I said, 'Listen, these guys are good, you're stepping up a level,'" Gragson said. "I just tried to remind myself that, 'Yeah, I'm not the top dog. I'm going to get my ass stomped out here.' That's how I felt. I felt it was going to be a rude awakening. It wasn't. I don't know what was different, but I just felt a lot more comfortable. … I just felt like it came to me a little bit more. I was on my game."
The following Q&A has been edited and condensed.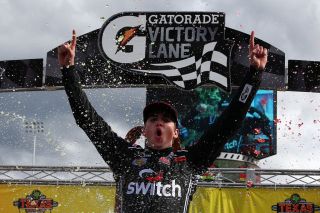 NBC Sports: When I last interviewed you two years ago, I asked how you viewed NASCAR growing up. You said you "didn't respect" it because you "didn't think it was hard." Now that you're more than a few years into your career, how hard is it? How easy is it compared to what you thought it would be?
Gragson: Like I said a couple of years ago, I thought NASCAR was just driving in circles, and not in a disrespectful way. I didn't know, I wasn't educated on the sport. It's just what I figured. You never know until you try it. … Being in it now, understanding everything that goes into it, I didn't know there was this much preparation that goes into a weekend. That's what I've been really trying to focus on this last year, I've been trying to change up the way I prepare before I go the race track. Just being on top of it and not having to ask questions and already knowing the answer to those questions is the biggest thing I feel like. With enough preparation and the right preparation, you won't have to ask any questions when you get to the race track. … It's a lot tougher Monday through Friday than I ever figured it would be.
NBC Sports: If you could have picked any three tracks to get your Xfinity start at, would these (Richmond, Talladega, Dover) have been those tracks?
Gragson: Talladega I can assure you wouldn't be. I'm still a little timid, a little nervous about going to Talladega. Richmond I really liked. I think I had a good idea that I would run somewhat decent just at Richmond. I really like that track, just on video games. I was hoping it would kind of translate to real life and I think it did. If I could build a top-three schedule, probably Richmond, Iowa and maybe like a road course. I also like Dover quite a bit. I feel like I run really good there on "NASCAR: Inside Line" in a Cup car on Xbox. Hopefully it'll translate to real life.
NBC Sports: With the resources you have at Joe Gibbs Racing and Kyle Busch Motorsports who have you been talking to the most about what to expect this weekend at Talladega?
Gragson: I haven't really talked to anybody pretty much yet. I was going to talk to Kyle Busch maybe a little bit. He hasn't run the Xfinity cars in a while, so I might talk to him just about some small stuff, but also probably Joey Logano. I'm working with his management team, Clutch Studios and Clutch Management. They've been a help to me. Joey helped me a little bit before Richmond along with Kyle Busch. I would talk to those two guys and then Eric Phillips, my crew chief and what not, try to get a game plan before we go.
NBC Sports: In your pre-race interview at Richmond you said you were more nervous than the first time you leaned in to kiss a girl. Did you wake up with that feeling Friday or did it creep in over the course of the day?
Gragson: I think it just creeped in over the course of the day and then you walk over to driver intros and everything is going off and then it hits you when you're walking back to you car and you're like, 'Damn. This is real. I'm going to be making my first Xfinity start. This is a pretty cool deal, this is a big opportunity.' You're standing there and you've got everybody around you. A lot more than a truck race for sure. Just all that hype and that pressure comes together and like I said, yeah, it hits you and you're like, 'Oh, this is big. I better go make something happen here."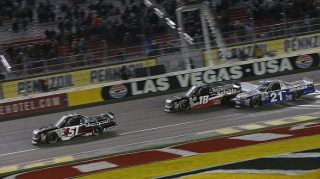 NBC Sports: Who did you learn the most from just by racing around them over the course of the night?
Gragson: Probably Tyler Reddick. In practice I was following him. I wasn't getting frustrated, but I was kind of at a road block where I just didn't know where I needed to be on the race track and I went up behind him in practice and I followed him and I changed up my line a little bit closer to what he was doing and boom, I picked up a couple of tenths and we were back on pace. … I don't think anybody knows that, but that's probably the thing that helped me the most.
NBC Sports: Has anyone delivered you ice cream via Twitter lately?
Gragson: Breyers did. Breyers sent me some, which was really cool. … They sent me vanilla, a couple things of vanilla ice cream. Which was super cool. They saw my tweet and they said 'We'll get on it' and they sent me some, which I didn't actually think they were actually going to do, but I got a package. I was all fired up. I love some ice cream.
NBC Sports: What's the coolest thing that's happened to you because of social media?
Gragson: Probably getting followed by Dale Jr. After that whole wasabi deal last year. So I did that and he liked the tweet and retweeted it and he followed me and I was a total fanboy. … When he followed me I was losing it. I was like, 'Oh my gosh, Dale Jr. just followed me.' It was so awesome, so I took a screenshot. Just getting those guys to follow me is really, really cool.
NBC Sports: Which social media platform is your favorite?
Gragson: Probably Tinder. No, I'm just kidding. I'm kidding, I'm kidding, I'm kidding. JK on that one. I like Instagram, Snapchat and Twitter. Probably Instagram, then Twitter and Snapchat.
NBC Sports: Why that order?
Gragson: Snapchat use to be my favorite but it's trash now. They messed up the whole story deal. You'd be better off trying to find a Wama on (video game) "Fortnite" than finding a story on Snapchat. … It's really, really tough to navigate Snapchat now and I really do not enjoy it. I feel like it's taken away a lot of my viewership, their new update.
(Writer's Note: Earlier in the interview Gragson discussed his schedule for the week, which involved mailing merchandise purchased by fans).
NBC Sports: You talked about your new merchandise and selling it. Are your merchandise sells your primary way of measuring how large your fan base is? If not, what is?
Gragson: Probably the amount of likes I get on Instagram helps me kind of gauge. I really pay attention to the insights and data, the numbers and what not to my posts. I feel like with Instagram they have a really good way for people to see what their engagement is and other insights. I really pay a good amount of attention to that. I kind of notice when some posts get viewed more than others. Just the timing of it and what not. That's really the biggest thing.
NBC Sports: At any point does it feel like social media is too controlling of your life, too overwhelming?
Gragson: No, I don't feel that way. Some might not agree. It's not bad.