Ryan Blaney's throwback paint scheme for this season's Southern 500 is personal.
The Team Penske driver will pay tribute to the NASCAR career of his father, former Cup driver Dave Blaney, in the Sept. 2 race at Darlington Raceway.
The No. 12 Ford will look like the No. 77 Jasper sponsored Ford the elder Blaney drove in the 2003 Cup season.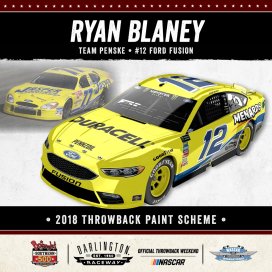 The car was revealed on NASCAR's Facebook Live page. 
That year, Dave Blaney earned his first of two career Cup poles and his first of four top fives. The top five came in the spring race at Darlington.
Dave Blaney made 473 Cup starts from 1992 through 2014.
His son, in his first full-time season with Penske, will make his fourth Southern 500 start. His best finish is 13th in 2016.
Ryan Blaney is eighth in the Cup points standings through nine races.
MORE: Matt DiBenedetto pays tribute to Jeff Burton with Darlington scheme