Daniel Suarez has been cleared to drive his No. 19 Toyota this weekend at Bristol Motor Speedway after fracturing his left thumb in a Lap 2 crash Sunday at Texas Motor Speedway
Suarez was diagnosed Tuesday with an avulsion fracture. The Joe Gibbs Racing driver was fitted with a smaller brace on his left hand that he will wear in and out of the car.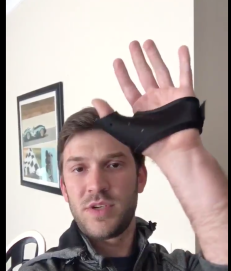 "It seems like good news because I won't need surgery, and it's not broke," Suarez said in a video posted on social media. "But tendons and ligaments are pretty bad. But it actually was good news because the doctor cleared me to race."
Suarez then showed off the black brace for his hand.
He has already been at the JGR shop to work on ways to make himself comfortable working with the wheel and switches in the cockpit.
Suarez was able to push through the injury and finish 29th Sunday at Texas.
He has one top-10 finish through seven races this season.