Daniel Suarez injured his left land in a Lap 2 crash Sunday at Texas Motor Speedway.
Suarez showed off his heavily bandaged hand in a Twitter video after the race.
The Joe Gibbs Racing driver was involved in the accident in Turn 4 with Alex Bowman and Paul Menard, Austin Dillon and Ross Chastain.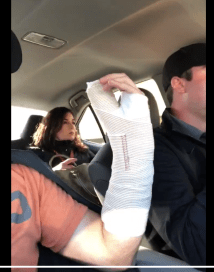 A Joe Gibbs Racing spokesman told NBC Sports that Suarez went to the infield care center after the race and had his left hand put in a splint. Suarez will see a doctor Tuesday in Charlotte.
Suarez finished 29th, 44 laps off the lead. It was his worst finish since the Daytona 500 (37th).
"Unfortunately the impact on Lap 2 hurt my thumb a little bit," Suarez said. "I just left the care center at the track, and it should be good. But they're going to take a deep look at it later in the week and see what we got going on."
Suarez has one top 10 and two top-15 finishes through seven races this season.
"It's been rough here lately, but we're going to catch a break here pretty soon, I'm sure of it," Suarez said in the video. "We have to keep working and for now try to fix this thing (referencing his hand)."