Around this time last year, JD Motorsports owner Johnny Davis approached Xfinity driver Ross Chastain with a proposition to compete in his first Cup race.
Chastain did everything but jump at the chance.
Davis and two team executives for JD Motorsports told Chastain that they needed him to run the June race at Dover International Speedway for "a lot of different reasons that I really didn't grasp at the time," Chastain said.
Davis and his team had secured enough sponsorship money through Chastain's connections in the watermelon industry and the Delaware Office of Highway Safety for the weekend to make it possible.
"The budget was big enough that we needed to share it and give Ross the opportunity to drive a Cup car," Davis told NBC Sports. "When you run those races in conjunction, it just makes you a better driver each and every day you make more laps."
Chastain, who was competing in his third full-time season in the Xfinity Series for Davis, was taken aback.
"I'm not ready," Chastain told Davis.
Even with 83 Xfinity starts and 50 Truck Series starts prior to the Dover race weekend in June, Chastain "just didn't think as a driver I would do a very good job in it."
But Davis believed the Florida native "was ready" for the move.
"He needed to take that plunge and go on and do it,'" Davis says. "He's a good kid. Some of these kids come in with a little bit of money, they drive over their head trying to prove how great they are and they crash stuff and they're gone in a year or two. Ross don't do that."
Davis didn't back down after his driver's initial rejection. He called Chastain the next morning.
"Hey, I'm not letting this go," Chastain recalls Davis saying. "We need you to wrap your head around this. This is what we need to do and this will help all of us."
Finally, Chastain bought in. He was soon singing a different tune.
SNOWBALLING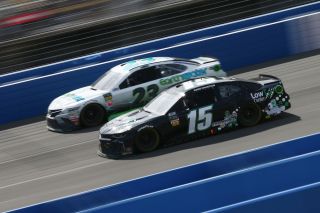 The Monday before the 2017 finale at Homestead-Miami Speedway, Chastain was excited.
For the last third of the season, Chastain had stuck around on Sundays for the Cup races, to watch and observe the series behind the scenes before flying home with Premium. That came after a surprising 20th-place finish at Dover in June and a 38th-place finish there in October.
Now he was locked in to drive in his third race for Premium.
"I was here at the (Premium) shop and then come Wednesday it fell through," Chastain told NBC Sports. "That was kind of tough. Not knowing when I would get another shot in it. …. Then I go through the whole offseason focusing on Xfinity. That was really all I knew I had."
Fate might have smiled on Chastain that weekend. He overcame flu-like symptoms the day of the Xfinity race to finish 17th.
"Saturday night, it was rough," Chastain says. "I didn't sleep at all and woke up Sunday morning even worse. Probably could have made it Sunday, but probably a good thing I didn't have to find out."
Like most other drivers, Chastain had to wait until February for his next shot in a Cup car. But it wouldn't be in the Daytona 500.
With Premium Motorsports wrapped up in Danica Patrick's final Cup start, Chastain didn't get a chance to talk to team owner Jay Robinson until the day after the 500, two days after he finished ninth in the Xfinity race. They soon agreed to partner again.
"He did caution me not to think it was all year," Chastain says, later adding "It's just snowballed in a good way."
DOING A LOT WITH LITTLE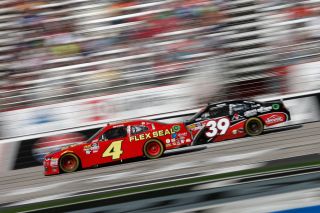 Things have slowed down for Chastain behind the wheel, at least on Saturdays.
Chastain is five races into his current stent driving the No. 15 Chevrolet for Premium.
And those five races have had an impact on how the 25-year-old driver handles his No. 4 Chevrolet at JD Motorsports.
Through five Xfinity races this season, Chastain hasn't finished worse than 19th. At this point last year, he had never finished better than 16th.
"When it's all happening, I don't feel like I'm going 180 mph, I feel like I'm going 140 or a little bit slower," Chastain says. "It just makes it to where I can be a little more in control and feel the car a little bit better. It all sounds a little silly when you haven't done it, I'm sure. When you're out there, it kind of slows it down for you. Then you can just get more out of the car."
He got a lot out of it two weeks ago at Auto Club Speedway when he finished 10th. His ninth career Xfinity top 10 and fifth at a non-restrictor plate track came after some late-race drama on pit road. With Chastain running near the front, Davis decided to buy their last set of tires.
"So they got them back and got the lug nuts glued up, but they need time to dry," Chastain says. "When they went to put the right front wheel on, all the lug nuts fell off, cause the glue wasn't dry."
Chastain lost spots during the green-flag stop.
"It wasn't anybody's fault, we were running good enough," Chastain says. "Johnny made the decision to go buy the last set of tires. It's comical, but it's true."
Chastain is in a unique situation with his double-duty weekends. On Saturdays, he competes for a four-car team that has to budget for tires and buys all of its equipment "new to us" — AKA: used — but is capable of running in the top 10.
Chastain's Cup duties take him to a two-car team that has one top-10 finish in 177 starts since 2014.
But Chastain is benefiting from resources he's never had in his career.
"Cup cars have data, so I can compare it when I have a teammate," Chastain says. "It's been great to see the different throttle traces, brake traces and pressures we need to do."
Chastain says Premium, which includes crew chiefs Todd Parrott and Pat Tryson, is the most "sophisticated" team he's been with when it comes to putting a car together.
But "it's simpler here than I think it would be at a quote, unquote 'big team' where I've never worked with an engineer, ever."
Through five Cup races, Chastain's best result is 27th at Phoenix.
He capped off the first stretch of the season by finishing 29th at Martinsville Speedway and making at least one spotter angry.
"We're beating a handful of cars" Chastain says. "That's promising I think."
PRESSING FORWARD
Chastain's impressive finish in the Xfinity race at Auto Club Speedway left him at 13th in the point standings entering the two-week break.
It's his best position in the standings at this point in the season since he was 12th his rookie season in 2015.
"We were trying really hard for 12th," Chastain says.
Twelve drivers will make the playoffs, something Chastain has yet to accomplish.
In the days that followed the California race, the No. 4 team had a competition meeting.
As they discussed all the work ahead of them, mechanic Rick Johnson spoke up.
"I don't care how much I have to work," Chastain recalls Johnson saying. "I don't care what parts and pieces we have, if we can't buy another car that we think is better, if we've got to run the same stuff we have been in a couple of races, I don't care, I want to make the playoffs. That is all I care about."
Chastain says Johnson's declaration "lit a fire under us."
"Quit worrying about all the little stuff and let's just go make it happen."
Chastain knows a top-10 finish won't be in the cards for his team every week. It will take a lot of 15th-place finishes where the team placed 18th or 19th in the past.
Chastain works hard on "trying not to be the weak link" no matter what team he's on, and that comes down to how he manages races.
"I don't believe that anybody can drive the fastest race car and win," Chastain says. "I think you have to be a good driver at this level. A lot of guys say, 'Oh no, you can put anybody in Kyle Busch's car and win.' That's not the case. I'm sorry, you have to be 100 percent all the time, every lap and be able to manage the weekend."
While he still has a lot wrap his head around on the Cup side, Chastain believes he's the only driver who could have produced a 10th-place finish in the No. 4 in California.
"Running the Cup car helped, it just made it to where I wasn't the weak link, where I could get all the car had," Chastain says. "That is one thing I do believe is that, I might not be the best race car driver, but there is not anybody that can get in that 4 car and do a better job than I do. I will stand by that. The 15 car is not exactly the same case right now. I still have a long way to go in that thing. I'm sure there's guys that could get in there and do a better job. That's part of learning and that was the case with the 4 car at the beginning."