Monday's command performance at Martinsville Speedway was Clint Bowyer's ninth career victory in NASCAR's premier series. The postrace scene made it seem as if it were the first.
The parade of drivers to victory lane to offer hearty congratulations (not just teammates Kevin Harvick, Kurt Busch and Aric Almirola but also Kyle Larson, Ricky Stenhouse Jr., Jimmie Johnson and Brad Keselowski).
The exuberant rookie mistake of standing on the roof in exultation (sorry about those R&D Center tape measures, NASCAR!).
The excitable answers that spilled from Bowyer's mouth in complete paragraphs instead of full sentences.
The setting on the Martinsville frontstretch as dusk approached was normally what is seen with an inaugural winner, never mind a 13-year veteran whose first victory came in the 2007 playoffs opener at New Hampshire Motor Speedway.
This doesn't discount the emotional significance of Bowyer's victory. This is the best feel-good story since the Daytona 500.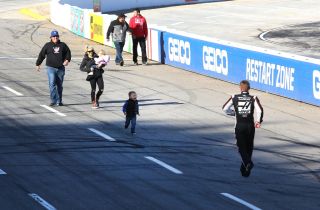 The poignant images of his dash to scoop up 3-year-old Cash and share the joy of his first victory in more than five years will be what lingers and resonates from the sixth race of a season that could use more such special moments.
But the collective merriment felt as much about relief as celebration (though undoubtedly there were those who offered congratulations contingent on the hopes of securing an invite to Bowyer's all-night rager).
Bowyer said as much in admitting he spent some time worrying while leading 215 of the final 216 laps on the 0.526-mile oval.
"I was like, 'Oh, my gosh,'" Bowyer said when asked about averting a pit stop under green that could have left him at a disadvantage because of fuel mileage. "I was wondering how we was going to lose this race, and that's going to be how we're going to lose it.
"But man, I don't know why it just felt right. Today was going to be our day."
This officially is Year 2 of the Clint Bowyer Reclamation Project, but it feels much longer than that because rarely have things gone swimmingly since the infamous night in Richmond when a curious flick of the steering wheel sent NASCAR into a scandal-tinged tailspin that seemed to ensnare Bowyer, too.
His last two seasons at Michael Waltrip Racing were mostly miserable as the team sank slowly into oblivion.
There was a rescue line tossed by Stewart-Haas Racing late in 2015, but it meant 2016 was a bridge year spent in 25th-place obscurity of a backmarker team that since has folded.
And when he finally arrived in the No. 14 Ford last year, it didn't immediately mesh while attempting to fill the enormous void left by three-time champion and car owner Tony Stewart.
Bowyer admitted that he and crew chief Mike Bugarewicz "fought a lot" in their first season together (there was the notable video of the driver stomping away after arguing with Bugarewicz at Talladega last October).
"All you guys was hard on us last year," Bowyer said to the postrace news media. "We learned a lot. I learned a lot about myself."
So much that the guy who never lost a party went so far as to embrace the power of positive thinking, hanging victory lane photos and championship plaques from days gone by on the wall of his office.
Whatever it took to spark the turnaround.
Bowyer, 38, might be in a good place, but the Cup Series hasn't taken kindly lately to middle-aged veterans on 190-race breaks between wins. Even those who still win regularly (hello, Matt Kenseth) are getting squeezed out by a numbers game that favors the cheaper and less experienced option.
It's fair to wonder how much longer the leash would be for Bowyer if he hadn't won Monday, particularly if the team stumbled and gave away another win.
Now all that weight has vanished and been replaced by the security of being locked into the playoffs six months early.
Nearly two hours after the race, the festivities were just getting started.
"Hell no," he cracked when asked if he had gotten the carousing out of his system. "It ain't even dark yet.
Seems fairly bright, actually. Like the dawn of a new beginning.
---
The luxury of showcasing Bowyer's effervescent personality was the saving grace of a 500-lap race that simply was uneventful for Martinsville. History shows that, but so did the Camping World Truck Series race that immediately preceded the main event. It wasn't as if the track was less than primed for being conducive to action.
There were many theories supplied – tire combinations, data sharing, reduced aggression – about why the beating and banging of fenders were largely absent.
With far more at stake when the Cup Series returns Oct. 28 in the thick of the playoffs, let's hope that Martinsville's magic does, too.
---
Brad Keselowski caught grief last year when he chose the outside lane for a restart on which he lost the lead and the shot at a 2017 sweep of Martinsville.
But the cerebral Team Penske driver seems to have been ahead of the curve on a growing trend that would have seemed unthinkable prior to the advent of double-file restarts: The outside seems to be the preferred lane at Martinsville.
Aside from the start (when pole-sitter Martin Truex Jr. held first from the inside) and Lap 143 (when Ryan Blaney started on the inside and lost the lead to Denny Hamlin), the leader took the outside and retained first on every restart Monday.
As noted by Motorsports Analytics founder David Smith, the outside line has become the place to be at Martinsville since 2014 by roughly a 20 percent advantage.
---
The decision to postpone Sunday's race at 7 a.m. wasn't received well – understandable because it meant thousands of fans likely wouldn't be able to return Monday (and also wouldn't be getting ticket refunds from the track). The reasoning for the postponement – that the conditions around track property precluded a safe ingress and egress – also was sound.
The head-scratching part of the virtual no-win decision was found on social media.
As the snow began to lighten late Saturday night, NASCAR Twitter lit up with images of the track being cleared and some upbeat photos and video by NASCAR officials and drivers that fed optimism (without qualification) of a Sunday race.
When the race was delayed the next morning, it came so out of the blue that some drivers were about to begin the drive north minutes before the news broke.
If you were a fan deciding on travel to the track and gauging off Saturday late night's dispatches, there wasn't much evidence to the contrary that it seemed right to leave early Sunday morning.
Seeing Martinsville blanketed in snow was delightfully fun to witness. But the next time there's such a threat of inclement weather, it might be wise to temper that enthusiasm with at least some warning the green flag might be in doubt (instead of inadvertently suggesting the opposite).
---
The only flicker of a potential feud was snuffed quickly when Denny Hamlin quickly put the ruination of his winning bid behind him.
Scuffles have been ignited by far less than the game of brake-check chicken that Hamlin and Kevin Harvick played, resulting in major damage to the No. 11 Toyota that led 111 laps.
There probably was a point during the Joe Gibbs Racing driver's career when there might have been a reprise of his September 2010 showdown at Dover International Speedway with Harvick, who was a willing instigator in both instances.
But that time has passed, and Hamlin's level-headed reaction, coupled with a longtime friendship with Harvick, decreases the likelihood of any lasting effects from the dustup Monday.