MARTINSVILLE, Virginia — Kevin Harvick was direct in stating what happened between him and Denny Hamlin as they ran in the top five with less than 125 laps left in Monday's race at Martinsville Speedway.
"He was on the bottom and I knocked him out of the way," Harvick said of getting by Hamlin, who went on to finish 12th.
And did Harvick brake check Hamlin, causing Hamlin to ram the back of Harvick's car and damage the front of his car?
"No, he hit me a couple times and I was just trying to make sure I had my car under control,'' said Harvick, who placed fifth.
Hamlin's response?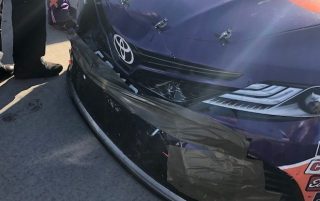 "You all know better than that,'' he told reporters on pit road, standing a few feet from the front of his car, its nose taped, dented and bruised. "He's giving you a bunch of bull.''
Hamlin, who led 111 laps, then immediately said: "It's short-track racing. I was trying to give him a few taps back after he knocked me out of the way. No hard feelings. I'm not mad or anything. Definitely tore up our race car pretty good. When he bumps us, we'll try to keep our car under control as well.''
Hamlin made two pit stops during a caution that ran from Laps 385-391. He had been fourth on Lap 375 before the contact. After making two pit stops under caution, Hamlin restarted 15th.
"No hope after that unless we had a caution,'' Hamlin said of winning for the sixth time at this half-mile track. "Definitely better than we have been. I'm fairly happy with that.''
Follow @dustinlong and on Facebook