Given that a grandfather clock went to the winner, it was about time for Clint Bowyer to win Monday's rescheduled STP 500 at Martinsville Speedway.
Postponed one day due to snow at the track on Sunday, Bowyer finally broke a 190-race winless streak, earning his first trip to victory lane since the fall race at Charlotte in October 2012.
It was also Bowyer's ninth win in his 13-year Cup career in 439 starts.
Bowyer led a race-high 215 laps in the 500-lap event around the .526-mile bullring.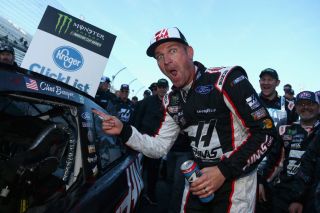 The 38-year-old Bowyer took the lead from Ryan Blaney on Lap 285 and after briefly losing the lead, led the final 114 laps. It was the 43rd career win for Stewart-Haas Racing.
Kyle Busch finished second, followed by Ryan Blaney, Martin Truex Jr. and Kevin Harvick. Sixth through 10th were Joey Logano, Alex Bowman, A.J. Allmendinger, Chase Elliott and Brad Keselowski.
"To have it come here, a place where I've gotten so close and wanted to win that grandfather clock … it was just time," Bowyer told FS1. "I told my son this morning, 'Damn it, we've got to get a picture in victory lane."
MORE: Results of Martinsville Cup race
MORE: Kyle Busch leads Cup point standings after Martinsville
Stage 1 winner: Denny Hamlin
Stage 2 winner: Ryan Blaney
How Bowyer won: In his first career win at Martinsville, Bowyer took the lead for good on Lap 285, but it was getting a good jump on the final restart of the day (Lap 392), that iced it for Bowyer, holding off Kyle Busch and others who would stay close but could never pass Bowyer.
Who else had a good day: Kyle Busch earned his third runner-up and fourth overall top-three finish in the first six races. … A.J. Allmendinger once again had a good day at Martinsville. In his last five starts at the southern Virginia bullring, he's finished 2nd (spring 2016), 10th (fall 2016), 6th (spring 2017), 40th (fall 2017) and 8th (today).
Who had a bad day: Darrell Wallace Jr. suffered mechanical problems early in the race and finished 34th, 14 laps down. … Jamie McMurray spun into the wall after being tapped by Austin Dillon on Lap 385, but was able to continue. Still, the damage was done, as McMurray finished 26th, followed by Dillon (30th), Trevor Bayne (33rd) and Ricky Stenhouse Jr. (37th).
Notable: Bowyer led more laps today (215) than in his last 159 starts combined. … Bowyer becomes the only driver in Cup history to win in all three active manufacturer rides (Ford, Chevrolet and Toyota). … Stewart-Haas Racing has now won four of the first six races of 2018 (the other three wins came from Kevin Harvick at Atlanta, Las Vegas and Phoenix). … The race had only 38 cars in the field, two short of the usual 40-car field.
Quote of the day: "You start to question if you can get it done or not. To have it come at this place meant a lot." – Clint Bowyer
What's Next: The Cup, Xfinity and Truck series all have the Easter weekend off. The next Cup race is the O'Reilly Auto Parts 500 at Texas Motor Speedway on Sunday, April 8.