Xfinity Series driver Daniel Hemric will make his Cup debut next month at Richmond Raceway, Richard Childress Racing announced Tuesday on Fox Sports 1's "NASCAR Race Hub."
Hemric, 27, will drive the No. 8 Chevrolet for RCR at Richmond on April 21. He will also compete in the Sept. 30 race on the Charlotte Motor Speedway road course.
A native of Kannapolis, North Carolina, Hemric will be sponsored by Smokey Mountain Herbal Snuff in both races. The company serves as an associate sponsor on Hemric's No. 21 car in the Xfinity Series.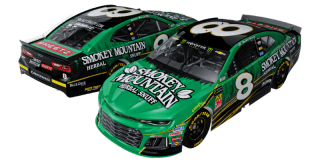 "You only get one chance to make your Cup Series debut, and it is pretty incredible to know that I am able to do it with Richard Childress Racing and with a partner such as Smokey Mountain Herbal Snuff," Hemric said in a press release. "RCR and Smokey Mountain Herbal Snuff have been so influential in so many drivers' careers – a lot of my heroes growing up. To know they will play a large role in the next step of my career and my initial Cup Series debut is very special."
MORE: Daniel Hemric's racing career saved by a Ford Mustang
"Since joining our organization, Daniel Hemric has shown his determination and dedication to this sport both on and off the track," said Richard Childress in a press release. "Making his Cup Series debut is the next step in his career and we are proud to have him take that step with RCR."
Hemric is in his second full-time season with RCR in the Xfinity Series. Last season he was part of the championship four at Homestead-Miami Speedway. Through five races this season, Hemric is fifth in the standings.
"To make my debut at Richmond will make me feel at home, since I spent years coming up through the ranks at short tracks across the country," Hemric said. "To do it again in front of my hometown crowd in Charlotte later in the year is an overwhelming feeling. Many people have laid everything on the line to get me to this point and I am extremely grateful to all of those people for putting me in position to get this shot in the Cup Series. These are going to be two very special weekends, to say the least."
The Richmond race weekend won't be Hemric's first time in a Cup car. He was called on by RCR last year to drive Ryan Newman's car in a Goodyear tire test on the CMS road course. He also practiced and qualified Paul Menard's car last November at Texas Motor Speedway.