As some of its most popular drivers retire, NASCAR has the chance to tap into their knowledge to help push the sport forward.
Question is if NASCAR will do so.
The sport is in the midst of a generational change in its driver lineup. Gone are Bobby Labonte, Jeff Burton, Tony Stewart, Jeff Gordon, Carl Edwards, Dale Earnhardt Jr. and Matt Kenseth (at least for now). Likely to be gone in the near future are Kevin Harvick, Jimmie Johnson, Jamie McMurray and Elliott Sadler — all drivers 40 or older.
Think about the wealth of knowledge they carry about the sport. Think about how NASCAR could benefit from their consultation. Both Burton and Gordon were a part of the group NASCAR assembled that created stage racing, so it's clear their opinions matter.
Admittedly, some drivers will have other plans for their post-racing career and won't have the time or interest to do so, but for those willing to help the sport, NASCAR needs to find a role for them. 
There's plenty former drivers can do. They can help bridge gaps, provide a different perspective, be a listening board and an agent for change. 
Harvick has become more vocal in the last year about ways to improve ties to grassroots racing. He's suggested that the Camping World Truck Series run more races at local short tracks and questioned why the K&N Pro Series West no longer competes at Phoenix and other big tracks.
"Sometimes we look at our sport from the top down instead of the bottom up,'' Harvick said on his SiriusXM NASCAR Radio show "Happy Hours" this week. "At this grassroots level, that's where all your hardcore fans live.''
One doesn't have to listen to Harvick long to hear his passion for short track racing. As a former Cup champion and host of a national radio show, his words carry weight. He also is one of action. Thursday night, he competed in the K&N West opener at Kern County Raceway in Harvick's hometown of Bakersfield, California.
Even for all the behind-the-scenes work he's done, Harvick still has to focus on his racing career and there will be times throughout the season he won't be able to focus as much on such issues.
That's where a retired driver can help. It's becoming more difficult for former drivers to find a role in the sport. Ownership isn't a viable option for many because it has become so expensive. There are only so many TV jobs available. Same with executive roles for teams.
If there isn't a place in those areas, that's where NASCAR should enter and provide a spot.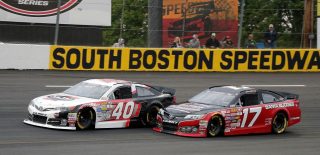 For all the work Harvick has done on grassroots, he could use help tightening the bonds between NASCAR and local racing. Burton, whose son, Harrison, has come up through such ranks, has seen the sport from many levels and could provide a way to work on such solutions. Earnhardt often has expressed an interest in short track racing and noted how he might just show up a track to race at some point. Short-track racing is a passion for Stewart. There are likely others who could also play a role in needed.
It's not just grassroots racing these experienced racers could help.
A retired driver could serve as an adviser to the Drivers Council. Just as with any work-related group, a lot of good ideas can arise, but it can be difficult for those involved to take a deeper look into matters because of how busy they are. Gordon, Stewart and Earnhardt have served on the council before, although such experience shouldn't preclude someone else, maybe someone such as Dale Jarrett or Burton or Labonte, from a role to make that group even more effective.
Whenever Sadler decides to no longer race, he is someone who could be looked at in some advisory role to help raise the Xfinity Series' level should he want to do something like that. Sadler's passion for the sport is evident, and his experience, even now, is invaluable for a series that gets younger each year.
One of the things NASCAR recently touted with Ben Kennedy moving into an executive role for the Camping World Truck Series is that he was coming from the driver's seat and would lend a fresh perspective.
While NASCAR doesn't have to hire every former driver, why not have some serve as consultants?
There are many of them out there. And there are enough issues in the sport where they could help.
2. Time's a ticking A subtle change this season is that Friday Cup practice has been shortened at some tracks by as much as 35 minutes compared to last year.
The result is that teams spend less time in race trim — if any at all — in Friday practice because that is the only session before qualifying. That can make an impact.
"You don't get that little bit of baseline,'' Erik Jones told NBC Sports of not running in race setup on Friday. "We were able to take that baseline from Friday (last year) and then adjust from it from there for Saturday and maybe have a little bit better fire off. It makes the (simulator) more valuable and makes the team guys more valuable to unload well.''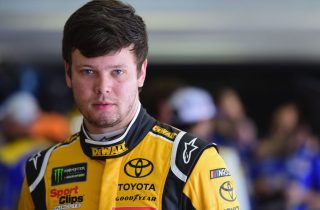 Jones benefitted from the longer Friday practice sessions last year as a rookie. He often started in race setup to run multiple laps and get his braking and turning points set before his team switched to qualifying trim. But that was when teams often had 85 minutes for practice on Friday.
At Las Vegas, Friday's practice was 30 minutes shorter than last year. Jones ran seven laps in practice this year compared to 16 a year ago.
At Phoenix, Friday's practice was 35 minutes shorter than last year. Jones ran 10 practice laps this year compared to 16 a year ago.
Practice today at Auto Club Speedway is 35 minutes shorter than Friday's session last year. The only concession is that the first practice Saturday will be five minutes longer than that session a year ago. Still, teams have 30 minutes less practice time for the weekend.
Jones can't imagine the challenge Cup rookies William Byron and Darrell Wallace Jr. face with the shorter Friday sessions.
"You go to these tracks, and the Cup cars just drive so different,'' Jones said. "You don't really have a good idea of what you're looking at. It's just more valuable as a rookie to fire off in race trim and only take, hopefully, that one (qualifying) trim run you're going to get from the time it's going to take to switch over. There are times even now I struggle firing off in (qualifying) trim. It's not an easy thing to do.''
3. Which three-peat is better?
Kevin Harvick enters this weekend having won the past three races in a row.
Kyle Larson enters this weekend having won the past three races on 2-mile tracks.
Harvick's streak was done in consecutive weekends at three different tracks – Atlanta, Las Vegas and ISM Raceway.
Larson's streak was done at two different tracks — Michigan and Auto Club Speedway — but over a period of nearly five months.
Which streak is more impressive?
4. Fast start
Kurt Busch said before the year that a focus for the No. 41 team was stage points. With that in mind, it wasn't surprising that crew chief Billy Scott kept Busch out during the caution just before the end of stage 2 at Phoenix last weekend. Busch won the stage but then started deep in the field.
After four races, only Stewart-Haas Racing teammate Kevin Harvick has scored more stage points than Busch. Harvick has 53 stage points and Busch has 42. Busch had eight stage points at this time last year.
5. March Madness
With so much talk about the college basketball tournament, there's a form of March Madness in NASCAR for many competitors.
In a way, Kevin Harvick's hot start isn't surprising. Seven of his 26 Cup victories since 2011 have come in March. No other month compares for him.
Harvick also can finish strong with five wins in November and four in October since 2011.