A Goodyear racing executive said a softer "option" tire will not be used in May's All-Star Race at Charlotte Motor Speedway, but the idea of it is not a "dead issue."
Greg Stucker, Goodyear's director of racing, made the announcement Tuesday on SiriusXM NASCAR Radio's "Tradin' Paint."
The "option" tire was introduced last year for the exhibition race. The softer tires provided cars more grip and speed, providing lap times that were three to four-tenths of a second quicker compared to the "prime" tire.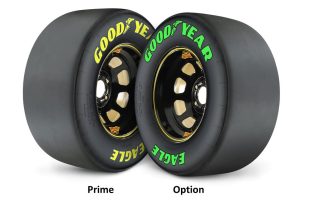 But Stucker said that once the lights came on at Charlotte Motor Speedway, any advantage was nullified.
"I think it really lends itself to a race like the All-Star," Stucker told SiriusXM NASCAR Radio. "I think there's some real opportunities there. We all kind of figured last year we needed about three to four-tenths (of a second) between the prime tire and the option tire. That's exactly what we had when we did back to backs in the daytime. But when the race came along and it cooled down, the cooler temperatures kind of leveled everything out. I think the difference between the prime and the option wasn't big enough last year to overcome the aerodynamic advantage of a guy who was out front."
Stucker also said there "probably also needs to be more of a penalty that you pay" or a "compromise" when the softer tire was used.
In the race, teams could put on the "option" tire at any point. But if they put them on before the final stage, they had to restart from the rear. All teams used their "option" tire before the final stage.
Stucker said the option tire could make a reappearance soon.
"I don't think it's a dead issue, we've talked about it a couple of different times," Stucker said. "I'm sure we'll talk about it over the course of 2018 and perhaps see it again in 2019."