One of the more surreal moments of Cole Custer's Cup debut came in the middle of Sunday's race at Las Vegas Motor Speedway.
Looking out the windshield of his No. 51 Ford, Custer bore down on none other than seven-time champion Jimmie Johnson.
"It was definitely kind of surreal racing against some of those guys out there," Custer told NBC Sports two days after his 25th-place finish in the Pennzoil 400.
When Johnson made his Cup debut in October 2001 at Charlotte Motor Speedway, Custer was 3 years old.
Now 20, Custer is the latest member of NASCAR's youth movement at the Cup level, albeit one race for now. Custer's full-time job is driving Stewart-Haas Racing's No. 00 Ford in the Xfinity Series.
After starting 30th, Custer quickly found out his level of aggression in the lower series won't cut it in the premier series.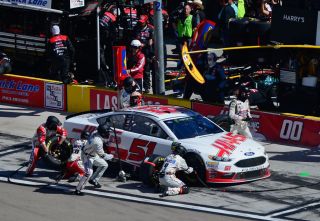 "The restarts are always pretty crazy so it's hard to just jump right in there and be really aggressive when you don't really know what the car's going to be doing around 10 other cars," Custer said. "Just getting used to that and what it felt like and everything. That was probably the biggest thing and really just trying to get used to the track bar adjuster and just really the whole weekend. I've never had to do a qualifying trim setup. Just the whole weekend in general was a new experience."
It wasn't his first time in a Cup car. Custer took part in a Jan. 31 – Feb. 1 organization test at the 1.5-mile track. Then he drove the No. 32 Ford owned by Go Fas Racing.
"I was definitely pretty nervous, just trying to get used to not really knowing what to expect," Custer said. "You do all the preparation you can leading up to it, watching a lot of video and looking at data and stuff like that. But it still really isn't enough because you still have to try and get a feel for the car and what it feels at the end of the straightaways and the corners and the motor. It's just a lot to take in."
On Sunday, he drove the No. 51 owned by Rick Ware Racing with support from SHR.
Custer attempted to approach the race like it was any other, despite the fact he was racing against drivers like Johnson for the first time on their level.
With his parents, sister, aunts and uncles present, Custer outran Daniel Suarez, rookie William Byron and AJ Allmendinger. Custer took the checkered flag in one piece while veterans Chase Elliott, Kurt Busch and Jamie McMurray wrecked.
"For a first race I think it's acceptable that we brought our car home," Custer said. "Didn't really have any scratches on it or anything."
But it took until last November for Custer to be convinced he was worthy of competing in the Cup Series.
It came when he put together the most dominating performance of his young career in the Xfinity Series season finale at Homestead-Miami Speedway.
After earning seven top 10s in the previous eight races, Custer led 182 of 200 laps and beat Sam Hornish Jr. by 15.4 seconds.
"When I was going into Xfinity last year I didn't have the highest confidence or anything," Custer said.
He attributed it to a lackluster final season in the Camping World Truck Series in 2016. He failed to win in 23 races and had five top fives. He had won one race in each of the previous two seasons as a part-time driver.
"By the end of (2017) I felt I had a decent amount of confidence and we won that race and that kind of makes you feel like you can kind of do it," Custer said.
Custer believed a good day for his first outing would have been a top-20 finish. But he still managed to give Rick Ware Racing its best finish at a non-restrictor-plate track in 33 Cup starts (Justin Marks finished 12th in the Daytona 500).
Custer was surprised by one thing.
"It was actually not the hardest race in the world," Custer said. "I thought it was going to be a lot harder. I thought the Xfinity race was actually a little harder than the Cup race, just because Saturday I was running around a lot more and had practices and qualifying and the race. So there was a lot more going on. The Cup race wasn't too bad, I was surprised by that."
As a native of Ladera Ranch, California, there was only one downside to his busy weekend.
He didn't get the chance to enjoy his favorite fast food chain, In-N-Out Burger.
"I didn't have any in Vegas because I was doing double duty, but I'm definitely going to get something next week in Fontana," Custer said. "That's always my No. 1 place to go."