Former NASCAR driver Rick Crawford remains in a Florida jail, facing a federal charge of attempting to entice a minor into sex.
Crawford, 59, was arrested Feb. 28 after communicating with an undercover Seminole County (Florida) sheriff's deputy — working as part of an FBI undercover child sex crimes task force — who posed as the father of a fictitious 12-year-old girl, offering her services.
Crawford is being held without bail. He has a detention hearing at 2 p.m. Thursday in federal court in Orlando.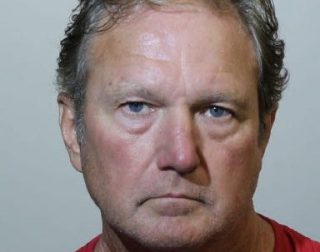 Crawford, whose legal name is Richard Hoyt Crawford Jr., is alleged to have answered a Craigslist ad Feb. 10 posted by the undercover officer offering "taboo" relations, according to the officer's affidavit.
The affidavit states that Crawford had numerous email and text exchanges with the undercover agent over the next two weeks, seeking to set up a rendezvous, as well as setting the amount of money to procure the "daughter" for an amount between $50 and $75.
Even though the agent stated in the affidavit he told Crawford several times that the fictitious daughter was 12 years old, Crawford allegedly acknowledged he understood and allegedly made comments to the agent of "let's do it," "need to do now if she is ready" and "I want it all" (referencing to intercourse and oral sex, according to the affidavit).
The agent met Crawford in a restaurant parking lot in Lake Mary, Florida, northeast of Orlando, at 1 p.m. ET on Feb. 28.
After acknowledging to the undercover officer he was there for the arranged meeting with the fictitious 12-year-old, Crawford was arrested as he exited his vehicle.
The officer's affidavit states that after being given his Miranda rights, Crawford said he showed up to see if the father (the undercover officer) had a 12-year-old daughter and claimed he would not have gone through with any sexual activity if the child had been underage.
Crawford spent 17 years in the NASCAR Camping World Truck Series. He made 336 starts and earned five wins, 75 top five and 160 top 10 finishes. He last appeared in a race in fall 2012 at Talladega Superspeedway.