The story of how Chase Briscoe made it to the Xfinity Series doesn't begin in a one-stoplight town in Southern Indiana.
"Actually, we just got a second stop light about two years ago," Briscoe says.
The town, Mitchell, is 33 miles south of Bloomington in Lawrence County.
Before you ask, there isn't much to do there.
"I remember in high school one of the fun things and cool things to do is just go walk around Wal-Mart," Briscoe says.
Luckily for Briscoe, growing up in a county that produced three astronauts provided some benefit to the future Roush Fenway Racing driver.
Dirt racers. "A ton" of them.
One of those was his dad, Kevin Briscoe.
FAMILY BUSINESS
The son of a longtime sprint car owner, Richard Briscoe, Kevin continued in the family business, competing for more than 20 years and winning more than 150 feature events.
But for much of Chase's childhood, Kevin didn't want his son involved in racing.
At 7, he raced twice in a quarter midget, winning both a qualifying race and his feature. But that was almost the end for Chase.
"My dad was still racing so much, and we didn't really have the money to be doing both," Briscoe says. "He just never really had the desire for me to race. He just didn't see the point of it. He didn't think it was the safest thing. He didn't think I could make a good livelihood doing it."
His dad's mind was changed one night at Bloomington Speedway when Chase was about 10.
While at the payout window, the mother of another driver asked Kevin when he was going to let his son race.
When he told her he didn't want Chase to race, the woman launched into a story.
Her son had once written a school paper about what racing with his family on the weekends meant to him.
The teacher failed the paper. She didn't think it was right for a kid to be racing.
The next week, the teacher's son was arrested for drinking and driving underage.
"My dad, it kind of clicked with him," Briscoe says. "He was always with his dad on the weekends not getting into trouble and was always at the shop working throughout the week and kept him out of a lot of trouble he thought. That was kind of his mentality to let me start racing, was to keep me out of trouble."
Briscoe wasn't immediately throwing dirt on the weekends. It wasn't until 2006 at 11 that he returned to the track in a mini-sprint car.
When he was 13, he made the jump into his dad's old 410 sprint car, which had an engine built in 1993 (the year before Briscoe was born).
In his first season, he amassed 37 starts but didn't win until the last race of the year. By doing so, Briscoe broke Jeff Gordon's record (14 years old) as the youngest person to win a 410 sprint car race.
Even now, Briscoe doesn't see himself as an exceptional dirt racer.
"It's something I've always been passionate about, but I'm not the best dirt racer by any means," Briscoe says. "I'm not the best pavement racer by any means either. It was hard to kind of race against guys that were running 140 races a year experience-wise."
DIRT TO PAVEMENT
When he graduated high school, Briscoe knew he was within a few years of an expiration date for anyone wanting to make it as a pavement racer.
"I knew I was in that age category where if you're over 23 years old, you're probably not going to get a chance if you're just starting out," Briscoe says. "I just figured, 'What the heck? The worst they're going to tell me is no.' If it doesn't work out in three or four years, I can always move back and race sprint cars and go get a full-time job or go to school or what not. I kind of just went for it, and I honestly expected it to never work out. But I figured it was something I could do, and if I was 60 years old sitting on a porch, I wouldn't have any regret about it."
The first step in that goal was being invited to the Michael Waltrip PEAK Antifreeze Stock Car Dream Challenge in July 2013 at Charlotte Motor Speedway. Briscoe competed in the three-day event against eight other hopefuls for a chance to win a ride with Bill McAnally Racing. He made the final round before losing to Patrick Staropoli.
Both drivers made a handful of K&N Pro Series starts for Bill McAnally Racing, with Briscoe making three in the West Series. To date, Staropoli has made one Camping World Truck Series start, in 2016.
Within a year, Briscoe furthered his commitment to making it on pavement. He moved to North Carolina in January 2014 at the age of 19.
That's where the Keselowski family came in.
TRUCKS
In the 2017 video game, "NASCAR Heat 2," the career mode begins with a video of Brad Keselowski talking to the player as if they're an aspiring NASCAR driver.
Keselowski says he'll make a few calls to see about getting you a ride with a Truck Series team.
You're basically playing as Chase Briscoe.
Unlike the game, Briscoe got to race for Keselowski.
The call from the 2012 Cup champion came after Briscoe, driving for Cunningham Motorsports, captured the 2016 ARCA Racing Series championship. He earned six wins – including four in row – during the campaign.
At the end of the process Keselowski spearheaded, Briscoe was signed as Ford's first development driver. He drove Brad Keselowski Racing's No. 29 Ford in the Truck Series in 2017.
But Briscoe's history with the Keselowskis didn't begin there.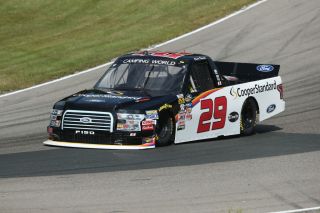 It started when he made the move to North Carolina and began sleeping on couches and volunteering at race shops.
The first shop he lent his services to belonged to Keselowski's father and brother, Bob and Brian.
"I'm sure they would say I didn't help out much because I didn't really know what I was doing," says Briscoe, who served as a spotter for Brian when he raced while Bob served as crew chief.
Briscoe got to pay tribute to Bob Keselowski's own Truck Series career last September when he drove one of his old paint schemes at Canadian Tire Motorsport Park
After his tenure at the Keselowski shop, Briscoe wound up at Cunningham Motorsports, where he volunteered until he was awarded a test at Nashville Speedway. That test resulted in two ARCA races in 2015 and his championship campaign.
UNEXPECTED PROMOTION
The plan was for Briscoe to compete in the Truck Series two years and move to the Xfinity Series.
Plans changed.
On Aug. 18, Brad Keselowski Racing announced it would shut down at the end of the 2017 season.
Due to not being near his phone, Briscoe didn't find out until about an hour before the announcement was made.
"I had like two or three missed calls from Brad and I was like, 'This is weird,' " says Briscoe. "I called him and he pretty much just told me, 'Hey, I wanted to let you know I went to the shop today and told everybody I'm actually shutting the team down. You're going to run the rest of the year, and I'm going to keep you in the best stuff I can.'"
The news came with nine races left in the season. With BKR the only Ford-backed team in Trucks at the time, Briscoe's NASCAR future was put in limbo.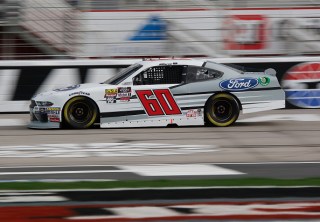 Three days after Briscoe closed the Truck season with his first series win at Homestead-Miami Speedway, Roush Fenway Racing announced he would be part of a three-driver effort to field the No. 60 Ford in the Xfinity Series in 2018 with Ty Majeski and his BKR teammate Austin Cindric.
Seventeen years after he first drove a quarter-midget, Briscoe made his Xfinity debut last Saturday at Atlanta Motor Speedway.
Briscoe finished 15th.
"It was very eye-opening to be there in the first place … I never would have expected to even make it in the Xfinity Series," Briscoe says. "To be able to drive for Jack Roush in your first start in the winningest number in Xfinity Series history (94 wins) is certainly very humbling. It was just such an honor."
Briscoe will make 11 more starts in the N0. 60 this season, the next coming on April 7 at Texas Motor Speedway. But Briscoe will make at least one other Xfinity start.
He is scheduled to compete April 28 race at Talladega Superspeedway for Stewart-Haas Racing with Biagi-DenBeste Racing.
The race is significant for a driver who grew up in the dirt racing hotbed of Indiana.
"Being a sprint car guy, my hero is Tony Stewart," Briscoe said of the native of Columbus, Indiana. "For me just getting to drive one race at Stewart-Haas is a dream come true. Just awesome and so humbling to be able to say I'm going to drive for my hero."
The 23 year old Briscoe — at the age he once saw as a make-or-break year for his racing dreams — has a buffet of options before him.
In addition to racing for his home-state hero, he'll compete in seven IMSA races, three Trans-Am races and roughly 25 sprint car races this year.
There's not much a 60-year-old Briscoe would regret about the moment.