As the Daytona 500, the most watched and anticipated race of the NASCAR season, drew to a close, the results sheet showed what many of us expected: The new, large group of brash, seething, success-starved young drivers didn't disappoint and took center stage in NASCAR's biggest show.
Meanwhile, that same week on the other side of the racing world …
The principal of Williams F1 Team, Claire Williams, was dealing with the brash media and defending the merits of her own set of very inexperienced and young drivers for the 2018 Formula One World Championship.
And both events represented the polar spectrums of the most feared word in racing (and a four-letter word in my book): Funding.
How?
Last season, Williams, one of the most historic teams in Formula One, announced the signing of an unheralded 18-year-old named Lance Stroll. Many casual fans asked "Who?" and the PR machines drummed up all sorts of lovely attributes about the young Canadian. But as with most things in racing that make you utter "Huh?" you need only follow the money.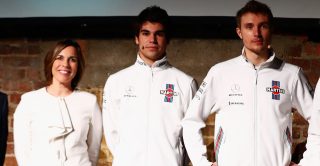 Lance Stroll's dad is a billionaire and by many reports agreed to provide to the team (and I am not exaggerating) a staggering $40 million U.S. paperbacks to make his son the new rookie driver at Williams. (Some had reported $80 million, but this is thought to be an exaggeration).
Throughout the world, the uproar wasn't deafening but more nuclear explosion. "Silver spoon" didn't suffice in this case. It was more being "born-with-sole-ownership-rights-to-Facebook"-spoon.
And yet one year later, Williams F1 Team said, "au revoir" to popular veteran Felipe Massa, who left for his second attempt at retirement. That left the team with only Lance Stroll, who had a respectable but by no means blistering debut season.
Williams had a decision: Who do they put beside the most garish display of a pay driver in the history of the sport?
The team had tested veteran Polish driver Robert Kubica, who is thought to be one of the most talented in the sport. He had driven for the likes of the factory BMW team and won. He was Renault's star driver until February 2011 when he was doing a rally race in the offseason and had a horrific crash that partially severed his right forearm.
But through the years he had worked tirelessly to prove he had rehabilitated enough to come back to F1. And in this off-season, it looked like this would be the case. One of the most remarkable comeback stories in the sport's history was about to come to fruition. He had tested with Williams and maybe lacked a bit of speed, but by all accounts, he had the veteran savvy to help this once-great team try to assemble the building blocks to its former glory.
But come Feb. 15th when Williams launched its new car for the 2018 season, Claire Williams wasn't answering how excited she was to have Robert Kubica. She was maligning the term "pay driver."
Williams had chosen another rookie who had a lot of experience in lower formula's and was respectable but also was known to have another massive amount of personal funding: Sergey Sirotkin
As Claire remarked "It's nothing new in F1 that drivers come with money, and thank goodness that they do. It would be incredibly naive for anyone to make that statement, saying 'He's just a pay driver.' It's great if a driver has financial interests from partners. It's great for the team. It's great for the driver.
"This is an expensive sport, not just F1 but at the grassroots level as well. We'd miss out on so much talent coming into F1 if drivers didn't have financial backing supporting them through the junior formulae, and bringing them into F1."
She would continue defending Williams' decision: "I think the terminology or the vocab used around pay drivers is wrong. It's inappropriate, and it's unnecessary, and it puts negativity around a driver that we just should not be doing in this sport anymore.
"There are commercial issues of course, but we make our driver decisions based on talent, based on what Paddy [Lowe]'s engineering team needs in order to take this team forward, not about any potential financial backing that they have."
And the fact is, I have to agree with her.
As sponsorship is becoming increasingly harder to obtain, F1 budget numbers have won the space race to Mars (waving as they pass Elon Musk). Any sane person would have made the same decision. When the difference may be losing a couple tenths or being in financial hardship, she made the right decision.
But I am not convinced no matter how much PR drivel is shoveled my way that the two best drivers available in the world are driving for Williams F1 Team.
The pay driver argument will continue all season for Williams, as it has for decades in racing. And it may continue to get worse unless something is done to restrict the cost.
But in NASCAR, where sponsorship has become a very tough game, the top level somehow is being graced with a serious amount of young very talented racers being selected based on merit. And they showed this during the incredible race that was this year's Daytona 500.
Now, I am not saying it didn't take funding to get them to the door of those top Cup rides. But in the cases of Alex Bowman, Darrell Wallace Jr, William Byron, Erik Jones, Ryan Blaney, Chris Buescher and Kyle Larson, what got them there mostly was a combination of success, talent, and luck.
They are in rides as the best choices for that particular car.
Some of you may say "But Matt Kenseth!" In his case, he was too expensive.
The fact is the drivers in Cup are the best the teams could afford. Unlike in the case of Williams F1, where it has the best drivers that could afford the team.
As for me? Well, I am too expensive.
Obviously.