Well ahead of his Xfinity Series debut last weekend, Chase Briscoe was given a list by Ford of all 33 races the series will hold in 2018.
The 23-year-old was asked to rank them by the races he liked and thought would be the most important for him to run.
The track at the top of Briscoe's ranking was Atlanta Motor Speedway.
A native of Mitchell, Indiana, with a dirt racing background, Briscoe wanted to get the toughest race out of the way.
"To me Atlanta was a crucial one to run just because it's early in the year … it's the first mile-and-a-half of the year," Briscoe told NBC Sports. "To me it's the toughest mile-and-a-half that we go to when it comes to slickness. You're constantly on edge and there's tire fall off."
Briscoe, a Ford development driver and one of three drivers piloting Roush Fenway's Racing's N0. 60 Ford this season, had been to Atlanta before. Driving for Brad Keselowski Racing in the Truck Series last year, Briscoe started 25th and finished fourth in his first visit to the track.
On Saturday, he wasn't the only rookie Xfinity driver trying to use past Atlanta experience to his advantage in their series debut.
Briscoe was joined by John Hunter Nemechek, driver of Chip Ganassi Racing's No. 42 Chevrolet. The two drivers had very different debuts on NASCAR's second-biggest stage.
Nemechek, 20, made his third start on the abrasive 1.54-mile oval. The first two, for his family's NEMCO Motorsports team in the Truck Series, included one win in 2016.
"I think it's all the same concept of being able to manage your tires and being there at the end when it counts," Nemechek told NBC Sports. "If I was going in blind and had never run there or in an Xfinity car, I think it'd be a little bit tougher just from the fact of knowing how you have to run there, how much to save tires … the saving factor is definitely different for the Xfinity car to the truck for sure."
Nemechek had "butterflies" on Friday, but he expected that.
"I feel like the weekend went very well from the perspective of never being in a Xfinity car until Lap 1 of practice," Nemechek said. "I felt really good. … We were fast Friday in practice. The guys here at Chip Ganassi Racing brought me a really fast piece and as a driver that's all you can ask for so it's kind of in my hands not to make a mistake."
Nemechek was eighth fastest in first practice and Briscoe was 20th. In final practice, Nemechek topped the chart and had the best 10-lap average. Briscoe had only risen one spot to 19th.
By the end of the day, they had varying expectations for how Saturday would go.
"I still had open expectations," Nemechek said. "My confidence was high in race runs, but I'd never done a qualifying run until the first lap in qualifying on Saturday morning."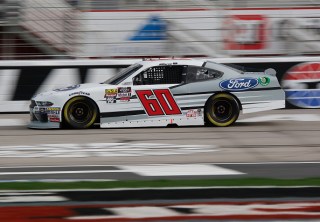 Briscoe's had changed significantly.
"I had every expectation that I could run up front and battle for the win," Briscoe said. "After practice I realized it wasn't going to be as easy as I thought. That was one of the things that's humbling and very eye-opening how tough the field is and the depth of the field is so tough."
The field was made tougher by the presence of four Cup drivers, including eventual race winner Kevin Harvick.
Briscoe leaned on Harvick as well as fellow Ford drivers Brad Keselowski (Briscoe's former Truck Series owner) and Ricky Stenhouse Jr. for guidance.
"There's a difference between being fast in practice and being able to race good," Briscoe said. "So all of the guys told me, especially (with) Atlanta, you need to be tight. That's one thing I've always struggled with in my career, I always like being loose compared to everybody."
Stenhouse, who also comes from a dirt racing background, provided valuable insight in how to get around the track that hasn't been repaved in 21 years.
"We talk the same language and some guys, typically the sprint car drivers, talk about side bite and forward bite," Briscoe said. "If I want to get in the corner at a certain speed, I'll actually start back peddling the throttle down the straightaway way before I get to the corner just so I can get to the corner at the speed I want and not have to go down in there wide open and lift out of the throttle and get into the brake. Stenhouse said he does the same thing, so it was just nice to reassure myself that's what I should be doing."
Meanwhile, Nemechek received advice from his Ganassi teammates, Larson and Jamie McMurray. He also got insight from former Cup driver Josh Wise, who works as a trainer for Ganassi.
"He's definitely been a huge help over the offseason, being able to, I guess more of like a driver coach per say," Nemechek said.
Wise's advice?
"Have fun," Nemechek said. "You want to make the most out of your opportunity. … Just being able to run all the laps and learn as much as you can."
Nemechek ran all 163 laps. But he had to survive the two most hair-raising moments of the race to do it.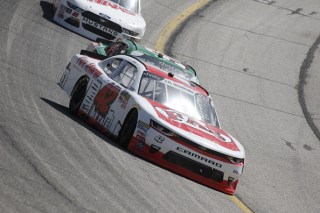 The first came within laps of the initial green flag. With his No. 42 Chevrolet hugging the line at the bottom of Turn 4, Harvick nearly made contact with his rear bumper, getting Nemechek loose and then some, but he somehow saved it.
"It's kind of a driver's instinct of being able to save it throughout the years," Nemechek said. "I still think there's some luck involved there."
Briscoe experienced the same issues with aero in the early going.
He "limped a little bit" into Turn 1 on the first lap when he could have gone all out and was passed by three cars.
"That was probably the first one where I thought, 'Well, you screwed that up," Briscoe said. "The whole race is just so much different in the Xfinity car than the Truck was in dirty air. All of the first couple of laps were kind of that for me because I didn't know what to expect being in that much air and that many cars around you."
Nemechek's second scare came again out of Turn 4 on Lap 11 as he raced with Cole Custer and Elliott Sadler behind him. The No. 42 drifted up in front of Sadler, who hit his rear end. That sent Nemechek down into Custer, who spun and hit the outside wall nose-first.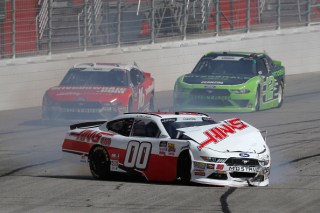 "I didn't expect (Sadler) to hit me like that," Nemechek said. "He had the run on the top side and Cole had a run on the bottom. I was loose as it is and had to use up all the track. They were being really aggressive and I can understand that. … Apologize to those guys. It's kind of one of those deals, I was in the wrong spot at the wrong time and so was (Custer)."
Before the first 40-lap stage was over, Nemechek had to endure one more near-miss in the form of a shredded right-front tire. Pitting to replace it sent the Nemechek one lap down.
He was back on the lead lap following the stage-ending caution a few laps later. Nemechek failed to finish in the top 10 in the first two stages, but he kept his No. 42 safe and drove to a fourth-place finish.
Nemechek attributed his spotter Derek Kneeland and crew chief Mike Shiplett with getting him back on track.
"More or less having the spotter and crew chief keep me calm and keep me focused and make sure I'm hitting my marks and not doing anything crazy," said Nemechek, who will next be back in the No. 42 car on March 17 at Auto Club Speedway. "Then knowing there's a lot of race left and things can play out in your favor if you're patient enough and don't put yourself in bad position."
Briscoe had an uneventful day at Atlanta before finishing 15th, one lap down. But he'll take it. His result came a week after No. 60 teammate Austin Cindric wrecked at Daytona on Lap 11.
"It builds team morale if you come back every weekend without scratches on the car and it's not tore up," said Briscoe, who will drive the No. 60 next on April 7 at Texas Motor Speedway. "Obviously there's a difference between tearing it up battling for the win and tearing it up running 20th. That goes a long way and I think Jack (Roush) respected that and he said he was proud. Fifteenth wasn't what I wanted to run, but I think in the big scheme of things he was happy with it and hopefully we can continue to build on and get better and better as the year goes out."