On Saturday night in Daytona Beach, everyone was hanging out at BJ's Restaurant & Brewhouse.
At one table sat 10 people. Among them was Tyler Reddick, the winner of the day's Xfinity Series race just down International Speedway Blvd. at Daytona International Speedway.
The 22-year-old driver ate and had a few drinks with friends and competitors, including Spencer Gallagher and his girlfriend.
At another table, Reddick's spotter Earl Barban dined with his wife and a friend.
Ryan Reed, who finished third to Reddick, was at another with his family and some of Reddick's friends.
At one point, a friend told Reddick he was getting together with people for drinks 10 miles away, right on the coast at Riptides Raw Bar & Grill.
Reddick tagged along.
When the JR Motorsports driver entered the establishment, a surprise gathering of between 30 and 40 friends and family members were waiting for him.
They were there to celebrate Reddick's triumph in the closest finish in NASCAR history.
A HEAVENLY PUSH
Not among those celebrating with Reddick was his grandmother, Carolyn Brown, who passed away from health complications in October.
Saturday's win was the first for Reddick since.
For Reddick, she was there to help put his No. 9 Chevrolet in the right place when the final of five overtime restarts began earlier in the day.
She was present in the form of the No. 1 Chevrolet driven by Elliott Sadler.
Due to a power problem stemming from the exhaust system on his car, Reddick had been unable to push or be pushed effectively in the draft most of the day.
That changed when an 18-car wreck broke out around Reddick on the backstretch on the first overtime restart, when he had restarted in the fourth row. Reddick was one of the few to make it through with minor to no damage.
"When there was not very many cars left and I was one of the few left to push, I guess they had no choice but to push me," says Reddick.
On the final restart, Reddick restarted on the inside front row with Sadler behind him. Reed and Ryan Truex were on the outside.
The dueling set of drivers were nearly even for the first half lap. Then the push – similar to one Sadler was penalized for earlier in the race – came. It allowed Reddick to clear Reed heading into Turn 3. No one but Sadler would pull even with Reddick the rest of the way.
Thanks to Grandma Brown.
"That little extra push that we got, Elliott was her helping us, that's how we looked at," Reddick says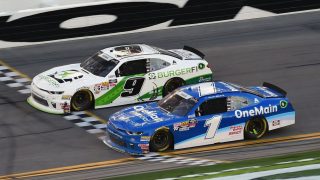 ONCE MORE, WITH FEELING
When the two cars leading the PowerShares QQQ 300 roared by pit stall 42 for the last time, David Elenz was pessimistic.
Sitting atop his pit box, the crew chief for Reddick and the No. 9 Chevrolet didn't believe his car would win the drag race against Sadler to the checkered flag.
He had plenty of reasons to believe either way thanks to the race's previous 142 laps, but specifically the last 22, which included all five overtime restarts.
The third one ended in a two-car wreck exiting Turn 4 with Reddick cleanly leading the field and preparing to take the white flag.
But the caution was issued moments before Reddick crossed the start-finish line.
"I was excited and I thought I had won, but I was like, 'No, there's no way. That was too easy. I'm sure that's going to come back,"' says Reddick. "Sure enough, it did."
As for Elenz, TV cameras had caught the 36-year-old crew chief celebrating his third Daytona win (Chase Elliott, 2016; William Byron, 2017). In the confusion of overtime, he'd forgotten NASCAR allowed unlimited restarts.
"It was pretty quick that Earl said on the radio that we were still under caution," says Elenz, who quickly had to focus on his job. "It becomes factual at that point. … Thankfully, we had something we had to do. We had to work with the engineers and see where we're at on fuel and see how much was in the box to make sure he could pick up on the apron or not. There was something for us to work on. I think if we had plenty of fuel and weren't worried about it, I think it would be a little harder because you'd still be sitting there all pumped up and not focused on something you have to do. I think it helped that we were in a difficult situation."
Two tries later, Reddick took the white flag and Elenz's job was done.
Finally, mercifully, Reddick had enough fuel to also take the checkered flag.
After Reddick crossed the start-finish line, Elenz wasn't going to get too excited.
"Heck, we'll wait a little bit longer, because we didn't wait long enough the first time," Elenz thought.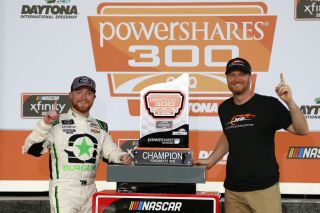 ONWARD
Three days after his win over Sadler by 0.0004 seconds, Reddick's voice is shot.
"Too much hootin' and hollering and all that stuff," he says.
In his first start in the No. 9 Chevrolet, with a new crew chief, new spotter, new everything, the native of Corning, California, won his second Daytona race. He was the victor of the 2016 Truck Series race.
Reddick's two-for-six so far at the "World Center of Racing."
"Some people try and go their whole careers just getting one win and I somehow got me two already," says Reddick. "It obviously hasn't sunk in because it hasn't hit me in the face what we accomplished in our first outing as a team together."
Reddick was still catching up on about 300 text messages and an avalanche of social media messages congratulating him on the win.
"You can see where obviously the race just ended," says Reddick of the text messages, which included a message from his former owner Chip Ganassi. "Twitter blew up so bad that I can't even scroll pass one day of feed or notifications, even if it's just mentions."
The time for celebrating will end soon with the Xfinity Series continuing its season Saturday at Atlanta Motor Speedway.
"I have a really good feeling about it since we tested there a month ago," says Reddick. "I feel like we've already gotten the ball rolling pretty good."
He'll be doing it with Elenz, who won last year's Xfinity title with Byron in his first year working with just one driver.
"I told him I'm going to make him mad a lot this year," says Reddick. "Not because I mean to, I'm very frustrating to work with sometimes because I'm so black-and-white with how I break things down, being the dirt racer that I am. Nevertheless, I know we're going to have fun this year."
Reddick's new owner Dale Earnhardt Jr. agrees.
"In the offseason he was texting me about how their tests were going," Earnhardt said this week on the Dale Jr. Download. "He's on his own shooting me text messages about how the day is going and I love that about him because he just wants to be engaging. We have great relationships with all our drivers but he's fitting in so well to JR Motorsports."