Sunday will be a big day for David Ragan when he fires up the engine of his No. 38 Ford for the Cup race at Atlanta Motor Speedway.
The Front Row Motorsports driver will be making his 400th start in the series, a little more than 11 years after his first (a 42nd on Sept. 24, 2006 at Dover International Speedway).
Sunday's race is made more significant with Ragan, 32, being a native of Unadilla, Georgia. The town is located roughly 95 miles south of the track in Hampton.
"Atlanta Motor Speedway is special to me because I grew up at that track," Ragan said in a release. "I raced my Legends car there as a kid in the 90s and early 2000s. My dad still works there and has an office there. It's just always has been a second home to me. So, we couldn't have scripted it better to have my 400th start be in Atlanta."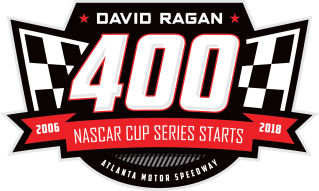 Ragan will start his race weekend festivities Thursday at the state capitol building in Atlanta. Ragan and track president Ed Clark will attend a ceremony in the General Assembly where the legislature will issue a proclamation honoring Ragan's achievement.
Once Sunday arrives, Ragan won't just have friends and family in attendance to celebrate his milestone.
Ragan recently reread fan letters he received during his 2006 season when he made two starts in the No. 6 Ford for Roush Fenway Racing leading into his rookie 2007 season.
He then reached out to some of those fans to invite them to the race. As a result, two fans from the Atlanta area and two fans from Missouri will be Ragan's VIP guests for the race. Ragan is paying for their travel to track.
"Pulling out those old fan letters and contacting those people to invite them to come was cool," Ragan said. "They were pretty surprised but jumped at the opportunity."
Ragan's car will be sponsored by Atlanta-based auction company Fr8Auctions.
In his Cup career, Ragan has two wins, 15 top fives, 39 top 10s and two poles.
His wins came in the July 2011 Coke Zero 400 at Daytona and the May 2013 race at Talladega.