It took Austin Dillon until his fourth full-time season to finally visit victory lane in the NASCAR Cup Series.
In his 133rd start, in the 2017 Coca-Cola 600, the Richard Childress Racing driver took his first trip to victory lane.
Dillon only needed 24 more races to make a return visit, winning Sunday's Daytona 500.
The 27-year-old driver claimed victories in two of NASCAR's crown jewel events to begin his climb up the all-time wins list.
How do those two victories compare to the initial set of wins for other notable drivers throughout NASCAR history?
David Pearson
The second winningest driver in Cup history and a NASCAR Hall of Famer, Pearson also got his first victory in NASCAR's longest race on May 26, 1961, beating Fireball Roberts and Rex White.
Win No. 2 came two months later in the July race at Daytona, the Firecracker 250.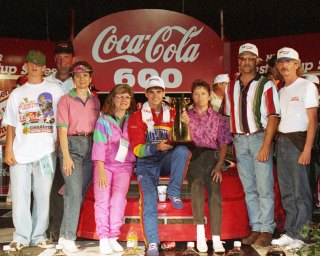 Jeff Gordon
In his second full-time season in 1994, Gordon went to victory lane for the first time in the Coca-Cola 600. It came in his 42nd start in the No. 24 Chevrolet for Hendrick Motorsports.
Two months later, Gordon won the inaugural Brickyard 400 at Indianapolis Motor Speedway. It was his first of five victories at the track located minutes away from his hometown of Pittsboro.
If you can't tell, Charlotte Motor Speedway has been kind to drivers looking for their first Cup win.
A year after Gordon won the Coke 600, Labonte followed with his own victory in the race. Driving the No. 18 for JGR, he won over his brother Terry.
Bobby Labonte's second win came at Michigan International Speedway in June 1995.
As a rookie in 2000, the former Joe Gibbs Racing and Roush Fenway Racing driver claimed his first Cup win in the Coke 600, beating Bobby Labonte and Dale Earnhardt. It was in his 18th start (his first was in 1998).
Kenseth's second win came in the spring 2002 race at Rockingham.
The two-time Cup champion and NASCAR Hall of Famer claimed his first victory in the 1980 Southern 500 at Darlington Raceway.
He only led the final two laps and had to pass Pearson at the start-finish line in a race back to the caution.
Labonte's second win came three years later at Rockingham.
Sterling Marlin
Marlin made his first Cup start in 1976 at Nashville Speedway.
But his first visit to victory lane didn't come until 18 year later in the 1994 Daytona 500.  The win was in Marlin's 279th start.
His second win came a year later – in the Daytona 500. Marlin is the last driver to win the "Great American Race" in consecutive years.
Waltrip had a lot more starts before achieving his first Cup win – 462. In start 463, Waltrip won the 2001 Daytona 500 for Dale Earnhardt, Inc.
He didn't have to wait quite as long to get win No. 2. That came in July 2002 in the Pepsi 400 at Daytona. All four of Waltrip's Cup wins came at restrictor-plate tracks.
Dale Jarrett
The NASCAR Hall of Famer and NBC Sports analyst also took awhile to get his first victory. After eight years and 129 starts, Jarrett got his first victory in a photo finish over Davey Allison at Michigan while driving for Wood Brothers Racing.
Two years later, Jarrett returned to victory lane in the Daytona 500 in one of the most iconic finishes in NASCAR history, beating Dale Earnhardt to deliver Joe Gibbs Racing its first NASCAR win.
It only took two starts for McMurray to get his first win.
Substituting for an injured Marlin in Chip Ganassi's No. 40 car, McMurray won the fall 2002 race at Charlotte Motor Speedway.
He wouldn't win again until 2007.
In a common theme with this look back, win No. 2 took place at Daytona. Driving for Roush Fenway Racing, McMurray won the Pepsi 400 by .005 seconds over Kyle Busch.