Darrell Wallace Jr. followed up the biggest day of his racing career with a new sponsor announcement.
A day after finishing second in the Daytona 500, it was announced that Wallace and his No. 43 Chevrolet will be sponsored by Driving 101 in the Folds of Honor QuikTrip 500 this weekend at Atlanta Motor Speedway.

Driving 101 operates the NASCAR Racing Experience, Richard Petty Driving Experience and Mario Andretti Racing Experience.
The NASCAR Racing Experience will be on the hood of Wallace's car.
MORE: Keeping up with Richard Petty after Darrell Wallace's historic Daytona 500
The NASCAR Racing Experience is an experiential racing company offering realistic racing programs to motorsports fans at 19 tracks across the United States. The Mario Andretti Racing Experience is held at 15 tracks.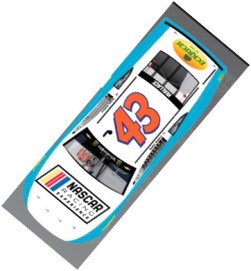 "It's great to see partners coming on board to support us," Wallace said in a press release. "I'm all about getting fans involved in racing, and nobody does that better than the NASCAR Racing Experience. They allow fans to race the cars we drive. It's the best way to get on the same track and in the same cars we race. That's really cool and I'm pumped they are on our car this weekend."
Wallace is the first full-time African-American driver in the Cup Series since Wendell Scott in the late 1960s and early 1970s.
He became the first to compete in the Daytona 500 since Scott in 1969.
His finish Sunday came in just his fifth Cup start.