Danica Patrick's NASCAR career did not end the way she hoped.
The 35-year-old Patrick had hoped to drive her No. 7 GoDaddy Chevrolet to a strong finish in Sunday's Daytona 500, the last race of her NASCAR tenure.
Unfortunately, she was involved in a wreck just past halfway on Lap 101 — not her fault, but being collected with several other cars — and with the resulting impact went her last chance to win a Cup race in her career.
She finished 35th.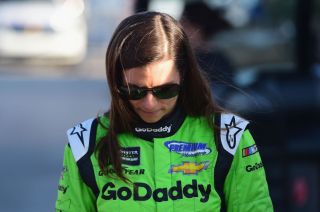 "The car was a lot better than it was in the Duel," Patrick said. "It was a lot better than practice. Tony Eury, Jr., my crew chief did an awesome job. The guys on the whole team did a really good job.
"I know we pulled this together not that long ago, a month ago. That is a tall order to get a car ready for a superspeedway that is competitive. But, it was. I said earlier today that I feel like the whole thing was picture perfect with GoDaddy on the car, and it being that green again. It just wasn't meant to be today.
"I am proud-we raced the whole race other than a little bit at the end of that first stage when it looked silly with all the cars with tires and no tires. Other than that, we raced it and the car was competitive. That is all you can do. That is the gamble at Daytona. It can go so well; and it can go so awful. … I'm just sad that it ended that way."
Patrick has one more race left in her motorsports career. She'll drive May 27th in the Indianapolis 500 for Ed Carpenter Racing.
"I'm grateful for everything," Patrick said. "Thank you to all the fans. Still have one more (race). It is not a stock car (race), but still have one more."
Patrick finishes her NASCAR Cup career with 191 starts, 0 wins, 0 top fives, seven top 10s and one pole. She also was running at the finish in 161 races and had 73 lead-lap finishes.