After a weekend of practice for the Daytona 500 and the Advance Auto Parts Clash, Cup Series drivers got two days off in their Speedweeks experience before the final push to Sunday's "Great American Race."
A number of drivers got out in the Florida sunshine to enjoy their off days.
That includes Danica Patrick, who went for a walk on Daytona Beach — on her hands.
Elsewhere, a good chunk of the Cup field made the trek to Walt Disney World in Orlando, which is about an hour southwest of Daytona Beach. Kevin Harvick's son, Keelan, even got to experience his first ride on an adult roller coaster.
Here's a look at all the NASCAR drivers who invaded Disney World.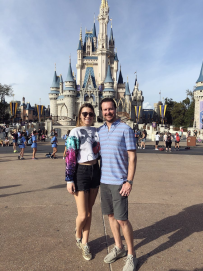 Rookie William Byron may have been the only driver who didn't stay on the ground. The Hendrick Motorsports' driver went for a ride with the Thunderbirds. Good news, he didn't throw up.