An Earnhardt will be in the 60th Daytona 500 after all.
Jeffrey Earnhardt, the grandson of seven-time Cup champion Dale Earnhardt Sr. and son of Kerry Earnhardt, will stretch the family's streak of competing in the "Great American Race" to 40 years.
The 28-year-old will drive StarCom Racing's No. 00 Chevrolet in the Feb. 18 race and the rest of the season, the team announced Tuesday.
The team announced last week that it was leasing a charter from Richard Childress Racing, ensuring the No. 00 a starting spot in all 36 Cup points races.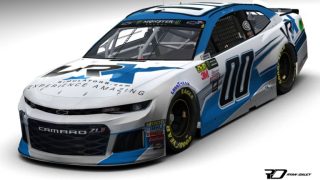 Earnhardt will be sponsored by VRX Simulators in the race.
"I am so appreciative of everyone at StarCom Racing and VRX for having confidence in me and making this a reality," Earnhardt said in a team release. "There's been an Earnhardt driving in the 500 for 39 years so to be able to keep that streak going for a 40th year means a lot to me and I'm sure a lot of Earnhardt fans are going to be happy to hear this news."
In 2017, Earnhardt drove the No. 33 Chevrolet for Circle Sport with The Motorsports Group. But the two entities split in December and Earnhardt lost his ride.
Derrike Cope, the 1990 Daytona 500 winner, is the team manager for StarCom Racing.
"It was imperative for our young team to have a sponsored driver for our start-up year, and we did have several options," Cope said in the press release. "We felt that Jeffrey was the best fit for our team and VRX has already shown the type of enthusiasm and commitment that SCR has both for Jeffrey and for the sport. It will be a very exciting year for us."
Earnhardt has 58 Cup starts since 2015. Last season, he made his first start in the Daytona 500, starting 32nd and finishing 26th. It was the last Daytona 500 start for Dale Earnhardt Jr., who retired from Cup competition following the season.
The family's history in the Daytona 500 began in 1979 when Earnhardt Sr. made his first start and led his first laps in the race. This year marks the 20th anniversary of his only victory in the race in 1998.