CHARLOTTE, North Carolina – It's been a long time since Jamie McMurray has stepped down to the Xfinity Series to terrorize NASCAR's lower ranks.
The Chip Ganassi Racing driver, who has eight Xfinity wins, last competed in the series in 2013 in the fall Richmond race with JR Motorsports. His last multi-race Xfinity season was 2011 when he made six starts.
But he'll make at least three starts in the No. 42 DC Solar Chevrolet this season.
So what's kept the 41-year-old driver away for so long?
He and teammate Kyle Larson have similar tastes in tracks.
"I was going to do a couple the last few years. It just didn't work out," McMurray said this week during the NASCAR Media Tour. "I didn't push real hard for it. The thing is, when you are a Cup driver; like with Kyle and I, you both want to kind of do the same ones. Like everybody wants to do Watkins Glen because we only go there once a year and it's a road course and it's a little more fun. And then there are a few tracks that nobody wants to do. And so, I was like, well, I don't want to do those. I just don't want to be in for those races. So, there were a few things that led to that. But DC Solar wanted to do some Xfinity races and I wanted to and they picked some good tracks."
McMurray's slate so far includes the DC Solar 200 at Phoenix on March 10, the May 26 race at Charlotte Motor Speedway and the July 6 race at Daytona International Speedway.
McMurray will share the ride with Larson (four races with DC Solar) and rookie John Hunter Nemechek.
Nemechek, who moves up to Xfinity part-time from the Truck Series, is initially scheduled for at least 10 races in the No. 42 according to the website of his sponsor, Fire Alarm Services.
Below is DC Solar's scheduled races to sponsor McMurray and Larson in Cup and Xfinity. After that is Nemechek's initial schedule.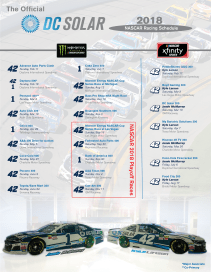 John Hunter Nemechek's Xfinity schedule