CHARLOTTE, North Carolina — Ryan Reed will have a trio of wingmen this season in the Xfinity Series after going two-thirds of last season without a teammate.
The Roush Fenway Racing driver was teammates with Darrell Wallace Jr. until Roush ran out of sponsorship money for the No. 6 Ford following the June race at Pocono, the 12th race of the year.
Reed's reinforcements this season are Austin Cindric, Ty Majeski and Chase Briscoe. The three drivers will split time in the No. 60 Ford during the 33-race season.
Reed, who was eliminated from the playoffs last year after the first round looks forward to the benefits of having another Roush car in the field again.
"Just having a second car is helpful," Reed said Tuesday during the NASCAR Media Tour. "You've seen it with organizations that have one-car programs and they have success, but for the most part, I think, it's gonna be helpful just to have the second car."
Briscoe and Cindric come to Roush after spending 2017 with Brad Keselowski Racing in the Camping World Truck Series. They each won one race while Briscoe was voted most popular driver and Rookie of the Year.
Cindric made one Xfinity start last season with Team Penske at Road America, where he started from the pole and finished 16th.
Majeski, a Roush development driver, made three starts in both Iowa races and the season finale at Miami. His best finish was 10th in Miami.
"I think having three fairly inexperienced drivers – at least in Xfinity cars – that will be different," said Reed, who has two wins in his first four Xfinity seasons. "But I also think it will be good because Ty has had some NASCAR experience with Roush, but Chase and Austin come from different organizations, so it will be cool to see their mindset and be able to pull from their previous experience, and also Austin is going to be splitting time with Penske as well, so that will be really good information and a really good comparison as we go."
The team will be led by long-time Roush crew chief Mike Kelley.
Kelly has 12 Xfinity wins since 2006. Eight of those came with Ricky Stenhouse Jr. from 2011-12.
"He kind of helped build that Xfinity program back when we had five or six Xfinity cars back in the day before I got there," Stenhouse said Tuesday. "I think the confidence that he has as a crew chief in this sport and what he's done carries over to the drivers as well. When he was working on our Cup cars, I felt like he was making sure he did everything he could to make sure that we had the most downforce last year every time we hit the race track and I had confidence in that.
"I think he'll do that same thing for the three rookie drivers he has and I feel like out of any of the crew chiefs I've worked for, for a rookie I feel like he's the one to do the job. He believes in all of them and if they can get things going and organize as quick as possible that they'll be competing for some wins before it's over with."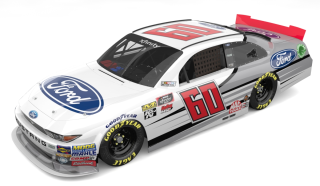 On Tuesday, Roush announced the full driver schedule for the No. 60 Ford.
Cindric will be in the car for nine races, beginning with the Feb. 17 opener at Daytona. Cindric was chosen for the race from a drawing between the three drivers' names last week.
Cindric's races: Daytona I, Las Vegas I, Phoenix I, Auto Club, Michigan, Daytona II, New Hampshire, Watkins Glen and Darlington.
Majeski and Briscoe will each get 12 starts.
Majeski's races: Bristol I, Talladega, Dover I, Charlotte I, Iowa I, Kentucky, Road America, Las Vegas II, Richmond II, Charlotte II, Texas II and Phoenix II.
Briscoe's races: Atlanta, Texas I, Richmond I, Pocono, Chicago, Iowa II, Mid-Ohio, Bristol II, Indianapolis, Dover II, Kansas II, Miami.