CHARLOTTE, North Carolina – The call came "out of the blue" in November.
The name "Horny" flashed on Wayne Auton's phone.
The nickname belonged to Ron Hornaday Jr., four-time Camping World Truck Series champion and one of Auton's closet friends.
Earlier in the year, the former Truck Series director and current manager of the Xfinity Series had been the one to call Hornaday and let Hornaday know he was one of the nominees for the 2018 class in the NASCAR Hall of Fame.
"Hey, buddy, I need you to do something for me," Hornaday said. "I want you to induct me into the Hall of Fame."
Auton needed a moment.
"Ron, did you just say what I thought you said?" he eventually responded.
"Yeah."
"Damn man, you need to let somebody in your family do that."
"No, you are my family."
Auton began crying.
—
For two days Hornaday couldn't sleep.
The 59-year-old native of Palmdale, California, fretted over the speech he'd give Friday night at the Charlotte Convention Center as the first Truck Series champion to be inducted into the NASCAR Hall of Fame.
"This is really the crown jewel of everything he's done," Hornaday's wife, Lindy Hornaday told NBC Sports. "He was scared he was going to forget somebody and I said, 'Everybody knows you and they know that you're thankful to everybody. So don't thank anybody specifically. Just thank them all.'"
Friday morning, Hornaday woke up without a speech set in stone.
"I got up at 9 o'clock this morning and it was like *makes gagging noises*," Hornaday said. "I walked away, took a deep breath, come back and I couldn't do it again. And I said to hell with it. When I started seeing my friends and family, something will come to me instead of trying to read this speech off that prompter. I got back to the room and I've never had an anger deal, I don't know what it's called in your stomach, but my stomach was turning over so bad. I was regurgitating air for about four hours. I finally fell asleep for a little while. My wife wanted to go to lunch. I sent her with all the family to lunch. I finally thought about thinking about what this really means and still didn't know what it meant until I started seeing friends, family, peers, the Hall of Famers. They really just got me into a different mood. I did that one sober. Usually I get a couple of beers in me before I speak.
"Everybody's telling me, 'be yourself, take your time.' How can you do that? It's the freakin' Hall of Fame!"
Those are the same words Hornaday bellowed at the beginning of his unscripted speech, with both arms raised high.
"That was the best part about the whole thing," Hornaday said. "Had to break the ice, just to get somebody to giggle. And I knew I could get on a roll."
Hornaday said he only forgot to mention Chevrolet, the manufacturer he earned all 55 of his NASCAR wins with.
—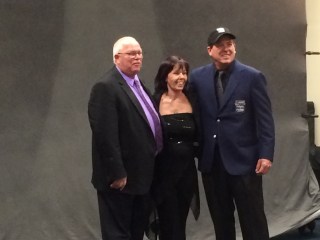 During the two days Hornaday fretted over his speech, Auton was with him.
The two first encountered each other in 1995, the inaugural season of the Truck Series.
"He was there at every one of my wins," Hornaday told NBC Sports. "He's the one that gave me the words of wisdom, he's the one that pulled me down and closed doors and told me what I had done wrong on the race track. He's the one that chewed my butt out, he's the one that when he got all done and said I'd chew his butt out. We got all done and said and we'd get a beer together."
For 18 years, the two were "friends, enemies and warriors," said Auton.
"Whether he won, whether he lost … when we were inside the gate we had a job to do," Auton said. "When we walked outside the gate we were very good friends. We had to have a beer together. Cold beverage. We knew each other's family like they were our own."
Leading up to the ceremony, the two pestered each other about what the other would say when the time came.
"I said, 'Ron, I just hope I don't pee in my pants,'" Auton said.
"When he was up there speaking, I seen him shaking pretty good," Hornaday said. "I'm glad I got back to him and made him as nervous as I was."
Standing on the auditorium floor afterward, Auton described the moment as "the biggest honor" he could ask for.
"I'll never top that."
When they left the stage, it took them awhile to get back to their seats.
Auton said they stopped to have a cold Coors Light.