Danica Patrick's new book, "Pretty Intense," was released Tuesday. It's not a racing book, but rather one about building a healthy lifestyle and maintaining it.
Patrick, who is retiring from auto racing in 2018 – she plans two more races, the Daytona 500 and Indianapolis 600 – was interviewed by ESPNw about the new book, what's next career-wise and a variety of other topics.
The 35-year-old Patrick is transitioning from racing into becoming a lifestyle brand, even contemplating hosting a cooking show on TV.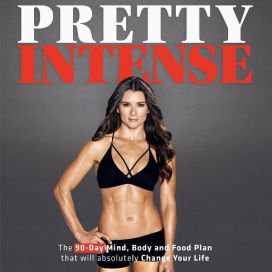 Her book focuses on three particular areas: the mind, the body (including a 12-week workout) and food. Patrick is an accomplished cook and shares 50 recipes to readers.
Here are some excerpts from Patrick's interview with ESPNw:
On writing the book: "I finally tried something different for myself that was very effective. I think that we all tend to go through phases of different things, and some work better than others, and this was the program that really worked well for me, so I felt like I had something to say. The book is what I have to say."
What's next for Patrick: "I see myself as a wellness brand. Everything from mental and physical wellness to food wellness. Wellness in general — that's how I'd like my brand to be identified in the future."
Retiring from racing: "Retirement looks bright! I think many people retire and don't know what they're going to do next and have to figure it out, but I know what I'm going to do. I don't doubt that [retirement] will change and shift my life in ways I would never expect, so I've got to be ready for that.
"But at this point in time, it's about spending more time with Somnium — my wine brand — doing more events there, promoting, making sure that I'm on top of the quality control.
"I'll do the same for [my] clothing line, Warrior. Expanding and growing that, and being more hands-on with everything from fit and fabrics, to the branding and the shoots and just generally the aesthetic feel of the brand."
Now that she's a published author, writing additional books may also be in Patrick's future.
"I'd like to expand in the book world as well," she told ESPNw. "I don't even know what that might lead to, exactly. Maybe it leads to public speaking engagements — generally that arena of educating people. That could take any shape."
Click here to read Patrick's full ESPNw interview.