CHARLOTTE, North Carolina — A week ago, Bob Leavine got on the phone with Andy Petree, the new vice president of competition at Richard Childress Racing.
The owner of Leavine Family Racing and its No. 95 Chevrolet told Petree his main goal for the 2018 Cup season, his team's third as a full-time operation.
"To be the best RCR car in the alliance," Leavine told NBC Sports and Racer.com Tuesday at the NASCAR Hall of Fame. "Beat all theirs. The 3 and the 31, that's my first goal. To be the best RCR car in the alliance. If we do that, it's like the process, the results will come. If we're that car, we can do that, all other (goals) will come. You can read into that whatever."
Why does Leavine have the confidence that his car could potentially up-show RCR's flagship cars and even the No. 43 of Darrell Wallace Jr. at Richard Petty Motorsports, which is also now part of the RCR alliance?
Leavine Family Racing is coming off a 2017 season where the No. 95 Chevrolet, driven by Michael McDowell, finished 26th in the standings. He claimed one top five and top 10, in the July race at Daytona. It was a career-best result for McDowell and the team.
But McDowell no longer calls Leavine Family Racing home after four years with the team.
Not far from where Leavine answered questions was his new driver.
Kasey Kahne stood next to his No. 95. Procore Chevrolet, taking pictures with the car he'll drive in February's Daytona 500.
A 14-year Cup veteran and a 18-time winner, Kahne was announced as LFR's new driver in September. Kahne comes to the team after a disappointing six-year stint with Hendrick Motorsports.
During that same six years, LFR slowly built itself up from a team that only made four races in 2011.
In 2018, Leavine says coyly, "There may be victory hats in our hauler."
—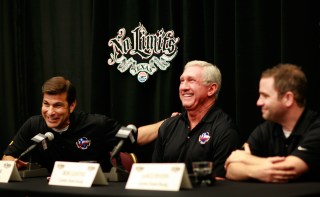 Bob Leavine had a five-year plan.
The owner of a construction company in Tyler, Texas, Leavine had originally started Leavine Family Racing in 2011 as a way to help veteran David Starr get more starts in the Cup Series.
The No. 95 was entered into eight races, but Starr only qualified for four.
That was enough for Leavine.
"That got my competitive juices going," says Leavine, who got his start in NASCAR as a sponsor in the Xfinity and Camping World Truck Series.
After Starr came Scott Speed, who made 15 of the 16 races LFR entered in 2012. Their best finish was 17th at Watkins Glen International.
However, the No. 95 only finished three of those 15 races.
"You couldn't test back then," Leavine says. "So we would use some races where you didn't go start-and-park. You went to work on your car. Work on (getting) your guys more experience. So we were building experience by going and doing that. We'd love to be able to run the whole race, but we didn't have enough money. We were still running out of our own pocket. So we had to pick the races we (ran) full-time. The ones with the better purse, then we'd add to it and we can run."
It was during this time Leavine began planning out his five-year-plan to to run full-time in Cup.
In 2013, LFR made 20 races with four drivers, again finishing just three races.
The next year, Leavine hired veteran McDowell to take over the 95, which he qualified for 19 of 22 races it was entered into. This time, McDowell finished all but five races.
During all of this, Leavine saw himself as a "roadblock" to his team's success, especially when it came to marketing and promoting the team.
"For two to three years, I didn't worry about it," Leavine says. "I wasn't from marketing. I didn't (use it) in our company in Texas, we got business by our reputation. Well, it doesn't work that way in NASCAR. It's sponsors and selling those things and I had no background (in it).
" … I was probably the biggest roadblock. It was me learning, figuring out what I needed to do. I could see how to put the operations side together because that's where I came from. But the marketing and the whole strategy, none of that."
To help in that effort, Levine brought on Jeremy Lange, who worked with Best Buy and GMR Marketing before joining the team. Lange is now the vice president and general manger of the team after having served as vice president of operations.
The team also faced the hurdle of a fire that devastated its 20,000-foot shop in May 2015, destroying four of the 12 cars they had.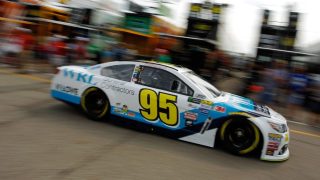 Then Leavine's five-year plan ended a year early in 2016 when NASCAR introduced the charter system, which guarantees 36 starting spots in a 40-car field.
"We were forced into (it) because there's a big difference between a charter purse and an open purse, it really is," Leavine says. "Then we had to get a partner and lease a charter (from Circle Sport Racing) to make that happen and we had to switch manufacturers (from Ford to Chevrolet). So we had three things going on in '16."
Leavine also entered a technical alliance with RCR after previously working with Team Penske. As part of that deal, Ty Dillon drove the 95 in seven races while McDowell took the rest.
"It was still a little disconnected," Leavine says. "Ty did a great job, but that was the deal we made with RC, getting him rides.
"(In) '17 it was us. Just us. Set up all the cars. Did it all ourselves, internally. Becoming more independent and self-sufficient. That gave us more confidence and we got better cars and faster cars. It just snowballed."
—
The snowball ended – or reached its peak – with Kahne being announced as McDowell's replacement on Sept. 19. On Tuesday, LFR announced Procore as the team's first major sponsor with Kahne on the team. It will sponsor the team in six races each in 2018 and 2019, including the Daytona 500.
The 37-year-old driver will be the first for LFR who has a Cup win on his record.
Leavine has also been adding new team members who have seen LFR's growth over the last few years.
The team added a new shop foreman from Richard Petty Motorsports and a front-end mechanic and a body man, both coming off championship seasons with Furniture Row Racing.
Leading the team – made up of roughly 30 employees – will be rookie crew chief Travis Mack, who comes to LFR after 14 years with Hendrick Motorsports, most recently as the car chief on the No. 88 car of now-retired Dale Earnhardt Jr.
Leavine feels in the last three years, after splitting his time between the team and his company in Texas, that Leavine Family Racing has finally begun to bear his "fingerprints."
"I never really had my fingerprints on it for our culture like we had on our organization out in Texas," Leavine says. "The majority of our people have been with us for 15, 20 years. So it's building that culture of people, surrounding yourself and letting them do their job. That's what we've done little by little in the last two-and-a-half, three years. Finding those people, doing well. Michael McDowell did a great job for us moving up through there, getting our car to run. Lot of credit to him."
Hiring Kahne, along with the improved fortunes of the team, has grown the talent pool Leavine has to choose from.
"Having Kasey helps broaden the market we can go for," Leavine says. "Because he's had Farmers (Insurance) and some of those people like that. That's important for Jeremy (Lange) in selling and marketing people. But acquiring people in the shop, (they) know 'I'm going to work on Kasey's car.' So yes, it helped."
What's the biggest door that's opened for the team in the two months since signing Kahne?
"It's difficult to say," Leavine answers. "A door or an attitude? An attitude can be a door. I think our optimism about what our future is, because you've got to have that person in order to carry you."