South Point Hotel & Casino in Las Vegas will return as a primary sponsor with Richard Childress Racing in the Xfinity Series next year.
It will mark the seventh year of their partnership.
South Point will be the primary sponsor of Daniel Hemric's No. 21 Chevrolet in all 33 races.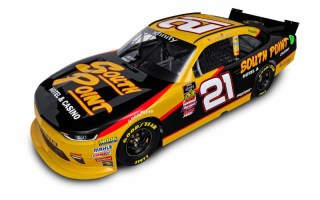 The hotel and casino are owned by the Gaughan family. Brendan Gaughan drove a South Point-sponsored car for RCR in the Xfinity Series from 2012 – 2017.
"The South Point Hotel & Casino is excited to be continuing our partnership with Richard Childress Racing in the 2018 season," said owner Michael Gaughan in a press release. "Watching Brendan carry our colors these past couple of years on the track and into Victory Lane has been a lot of fun. We're looking forward to continuing the accomplishments during this coming season with Daniel Hemric. Daniel is a great driver and we know he will represent the South Point well both on and off the track."
Hemric is entering his second Xfinity season driving the No. 21. In his rookie season he was able to make it to the Championship 4 despite not winning a race all year.
"RCR and the Gaughan Family have had a special relationship that we're thrilled to be able to continue," Richard Childress said in a press release. "As with RCR, the South Point Hotel and Casino has a rich history in stock car racing and it is a part of our heritage."