Rusty Wallace is one of many mourning the passing of veteran NASCAR crew chief Barry Dodson, who died unexpectedly Wednesday morning at the age of 64.
When team owner Raymond Beadle paired Wallace and Dodson together in 1986, it was immediate magic. The duo had a chemistry that made them one of the most powerful forces within NASCAR's premier series.
During their five-year tenure together, Wallace and Dodson combined for 18 of Rusty's 55 career Cup wins, as well as the highest point of both of their careers: winning the 1989 Winston Cup championship in the No. 27 Pontiac Blue Max.
MORE: Veteran NASCAR crew chief Barry Dodson, led Rusty Wallace to 1989 Cup championship, dies at 64.
Rusty spoke exclusively with NBC Sports about the passing of his crew chief and longtime friend. Here are some excerpts from that interview.
Q) What was it like when you and Barry first got together for team owner Raymond Beadle?
WALLACE: "When I went to drive for Raymond Beadle and the Blue Max, Barry was just one of the legendary crew chiefs that everybody wanted to work for. He was aggressive, real good with the pit crew, just real good with everything.
"The whole time I was with Blue Max Racing, when we started in 1986, we just had a lot of success under his leadership, winning a couple races right off the bat in 1986, a couple more in '87, six in '88 and '89 and the Coca-Cola 600 (and one other race) in 1990. We just had some real big wins under Barry's leadership. He was just a real cool guy."
Q) Barry was one of only a few crew chiefs who, back in the day, not only called a race from the pit box, he also served as a member of the pit crew on race day. Tell me about his doing double duty, so to speak?
WALLACE: "Barry was our crew chief and was also our jack man. He could do almost anything. He was really physically fit, real fast, a real nimble guy. He worked real well with the pit crew, including Jimmy Makar, Todd Parrott and the other guys. They were all real good at what they did.
"He was one of those guys that didn't just have one title. A lot of teams have one title now, but Barry had multiple titles. He ran the team, he was the crew chief, he was the jackman, he did a lot of things.
"Back then, we didn't have multiple crew guys. Our mechanic was our right front tire changer and Barry was jack man. I almost wish in different ways it would go back that way. I mean, on Sunday's, Barry could make it happen. I'm really going to miss the guy."
Q) Your relationship with Barry wasn't just driver and crew chief. He also became one of your closest friends. You even hired him to work for you almost 15 years after your last season together in the Cup series.
WALLACE: "I really appreciated and trusted what he did so much, that when I started one of my Xfinity teams (in 2004), he came over and helped us out a lot, helped tutor Stephen (Rusty's son) a lot and got him winning on short tracks. I really trusted him and he helped me keep going."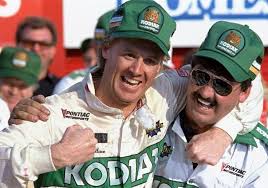 Q) What do you remember most of the 1989 championship series and Barry?
WALLACE: "The thing that bothered me, I remember we'd win all those (six) races and everyone would be so jubilant and so excited, and we'd go back to the shop the very next morning, be so excited, high-fiving each other, and Barry would be just walking around all stone-faced.
"I'd ask the guys why he was acting like that and one of the guys told me that's just Barry. He doesn't want to get so excited that he gets his eye off the ball.
"So he'd come in, say, 'Ok, we won that, it's done, it's over and let's get back to business, boys.' That's just how he was. We might linger and celebrate for two or three days after, but Barry, it was almost as if he was too serious, making us wonder there was something wrong rather than focusing on keeping our mind on the ball.
"Once we got to winning so many races, I knew him, I understood what was going to happen and what we were going to deal with."
Q) Barry suffered an incomprehensible tragedy in 1994 when his two children were killed in a single-car crash in Darlington, South Carolina. How much do you remember of that tragic event and its impact on Barry?
WALLACE: "When he lost his children in 1994, it really tore Barry up big-time and I don't think I ever saw him come from back that. He just wasn't the same as he was when he was with me. The passing of his children really broke his heart and really changed him."
Q) Any final thoughts about your crew chief and friend, Barry Dodson?
WALLACE: "In my opinion, he was one of the greatest crew chiefs ever in the history of NASCAR. He worked for Raymond Beadle, Richard Petty, Darrell Waltrip and myself. One of the reasons I loved Barry so much is that Barry guided me personally to a lot of victories and to a championship. In '89, it was such a magical year.
"He had a cool attitude which demanded you pay attention and you respect. When he said something, you listened to what he was saying. Just a wonderful crew chief. I miss him bad."