Police and sheriff's deputies in Davidson County, North Carolina, are searching for three masked suspects who broke into the home of NASCAR team owner and NASCAR Hall of Famer Richard Childress on Sunday evening.
According to TV station WXII Channel 12 in Winston-Salem, N.C., Childress and wife Judy were in their home in Reedy Creek, an unincorporated Davidson County area not far from Childress's race shop campus in Welcome, N.C.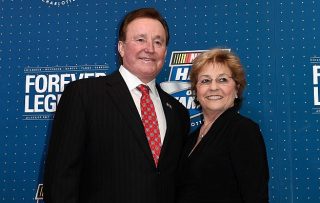 At about 10:30 p.m. ET, the couple heard a loud noise and glass breaking from the lower level of their multi-story home, which also activated a burglar alarm.
Richard Childress grabbed a handgun and, upon investigating, reportedly encountered the suspects in the lower level of the residence and fired off several shots at the intruders.
It's unknown if any of Childress's shots struck any of the assailants, who immediately fled the scene and remain at large. Nothing was taken from the residence, according to sheriff's office officials.
Childress and his wife were reportedly uninjured in the incident.
According to the Winston-Salem Journal newspaper, Childress is offering a $10,000 reward for information leading to the arrest and convictions of the suspects.
According to the WXII report, deputies said the suspects had the majority of their faces covered and appeared to have firearms in their possession. The incident was captured on security video of the Childress residence.
Deputies took several pieces of evidence in an attempt to find possible DNA from the suspects.
Childress will not face charges for firing his weapon, as sheriff's officials said the North Carolina Castle Doctrine allows individuals to defend themselves against home invasions such as what occurred at the Childress residence.
According to the WXII report, Childress — who was elected First Vice President of the National Rifle Association in May — reportedly told deputies the only reason he and his wife "were here today was because of God and the Second Amendment (the right to bear arms)."
Davidson County sheriff's officials are asking that if anyone has information related to the incident to call Sgt. M. Hanna at 336-242-2105 or the Lexington (N.C.) Area Crimestoppers at 336-243-2400.
Neither Childress nor Richard Childress Racing have issued any public statement on the incident.
We will continue to monitor this story and bring additional details as they become available.