Richard Petty Motorsports and the U.S. Air Force will continue their sponsorship deal into 2018, sponsoring Darrell Wallace Jr.'s No. 43 Chevrolet in two races.
The Air Force will be on the car for the July race at Daytona International Speedway and the Nov. 11 race at Phoenix Raceway, which is on Veteran's Day.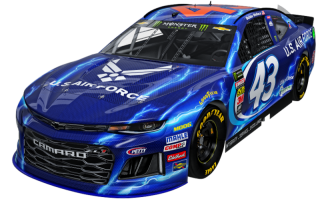 The deal extends RPM's relationship with the Air Force to its 10th consecutive year.
The Air Force has been on the No. 43 for at least two races per year since 2011. It was a sponsor for three races in 2015.
"I'm proud to join the men and women of the Air Force and represent them on and off the track," Wallace said in a press release. "I'm also really looking forward to meeting the next wave of Airmen and play my part to engage, inspire and bring awareness to the unique opportunities which lie within our United States Air Force. I've had the opportunity to spend time with some Airmen and they are the best at what they do. I admire them for their service and the protections they provide our country."
It is the third sponsor deal announced for Wallace's rookie season in the No. 43.
Click n' Close will sponsor him in three races, including the Daytona 500 on Feb. 18.
STP, which has been associated with Richard Petty since the early 1970s, will also be back with the team. STP sponsored Aric Almirola in the Southern 500 and the spring Martinsville race last season. It has sponsored the No. 43 in two races each year since 2013.