Bass Pro Shops and Cabela's will sponsor Richard Childress Racing in multiple races in the Cup and Xfinity Series next year, the team announced Monday.
Bass Pro Shops and Cabela's merged in September 2017.
The outdoors brands will be on Ryan Newman's No. 31 Chevrolet during the 60th Daytona 500 on Feb. 18 and in several other races during the season.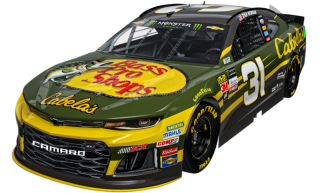 They will also be a primary sponsor for Austin and Ty Dillon on the No. 3 Chevrolet in the Xfinity Series for several races.
"Our relationship with Bass Pro Shops dates back to the mid-1990s and we're thrilled to be able to continue it during the 2018 season," team owner Richard Childress said in a press release. "Austin, Ty and Ryan are terrific ambassadors for the great outdoors. They are all passionate about our hunting, fishing and conservation heritage which has made this partnership thrive.
"Next season will be exciting as we welcome Cabela's, the iconic outdoor brand acquired by Bass Pro Shops, to the RCR family."
Bass Pro Shops, founded in 1972 by Johnny Morris, is also a primary sponsor of Martin Truex Jr.'s No. 78 Toyota owned by Furniture Row Racing.
The store chain will be on the hood of the No. 78 in 16 races and on the sides of it in 14 others.