The golden anniversary of one of the most popular short track races in all levels of stock car racing takes place in Sunday's Snowball Derby.
The 50th running of the Super Late Model classic takes the green flag at 3 p.m. ET at 5 Flags Speedway in Pensacola, Florida. The race will be televised on pay-per-view on Speed51.com.
Only 37 of the 67 cars that submitted entries will take part in Sunday's 300-lap main event around the high-banked paved half-mile.
Qualifying took place Friday, with the top 30 drivers locked into Sunday's show (see full qualifying list below). Three other drivers will receive a provisional position start, while four additional drivers will have one final try to qualify for Sunday's field in Saturday night's 50-lap "last chance" race.
Among notables in Sunday's race are 2015 NASCAR Cup champ Kyle Busch, along with a number of young NASCAR drivers including Noah Gragson, Mason Mingus, Ty Majeski, Brandon McReynolds, Harrison Burton and Corey LaJoie.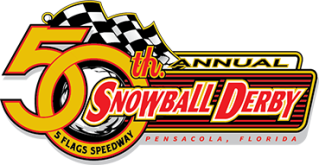 NASCAR Camping World Truck Series former champion Johnny Sauter was originally entered into the Snowball Derby before a hard wreck during practice Thursday forced the Wisconsin native to withdraw his entry.
Preston Peltier will start from the pole, while defending Derby winner Christian Eckes failed to qualify on a tiebreaker Friday, but will race Sunday because of a past champion's provisional.
Kyle Busch was not happy with his 15th place qualifying effort, particularly since he and his team had a strong two-day practice at 5 Flags right after the NASCAR Cup season finale at Homestead-Miami Speedway.
"Obviously 15th isn't where we wanted to qualify, but Rudy (Fugle, crew chief) and all the guys made our Toyota, Phoenix Construction Camry a lot better for final practice," said Busch, who was sixth-fastest in Saturday's final practice session.
"We made some 20-lap runs and we feel like we have good long-run speed, but we're probably still lacking a little bit of speed firing off compared to the guys that qualified up front."
Busch has one Snowball Derby win to date, in 2009.
Several well-known former NASCAR drivers are past Derby winners, including the late Pete Hamilton (1974), Donnie Allison (1975) and Darrell Waltrip (1976), Ted Musgrave (1988) and Rick Crawford (1989).
NASCAR has really taken a hold of victory lane at the Derby in recent years. Starting with the younger Busch brother's win in 2009 and Johanna Long's triumph in 2010, NASCAR drivers have captured the Derby in virtually every year since, including two-time winners Chase Elliott (2011 and 2015) and Erik Jones (2012 and 2013), and John Hunter Nemechek (2014).
Snowball Derby winners
1968 Wayne Niedecken
1969 Friday Hassler
1970 Wayne Niedecken, Sr.
1971 Dickie Davis
1972 Ed Howe
1973 Dickie Davis
1974 Pete Hamilton
1975 Donnie Allison
1976 Darrell Waltrip
1977 Ronnie Sanders
1978 Dave Mader III
1979 Freddy Fryar
1980 Gary Balough
1981 Freddy Fryar
1982 Gene Morgan
1983 Mickey Gibbs
1984 Butch Lindley
1985 Jody Ridley
1986 Gary Balough
1987 Butch Miller
1988 Ted Musgrave
1989 Rick Crawford
1990 Rich Bickle
1991 Rich Bickle
1992 Gary St. Amant
1993 Bobby Gill
1994 Tammy Jo Kirk (first female Snowball Derby winner)
1995 Jeff Purvis
1996 Rich Bickle
1997 Bobby Gill
1998 Rich Bickle
1999 Rich Bickle
2000 Gary St. Amant
2001 Wayne Anderson
2002 Ricky Turner
2003 Charlie Bradberry
2004 Steve Wallace
2005 Eddie Mercer
2006 Clay Rogers
2007 Augie Grill
2008 Augie Grill
2009 Kyle Busch
2010 Johanna Long
2011 Chase Elliott (At 15, youngest winner in Snowball Derby history)
2012 Erik Jones
2013 Erik Jones
2014 John Hunter Nemechek
2015 Chase Elliott
2016 Christian Eckes
Here's how Friday's qualifying played out. Just the first 30 drivers are locked in. Three others, including defending champ Christian Eckes, are locked in with provisional spots, leaving four remaining positions to be filled in Saturday night's last chance event.
1             48          Preston Peltier 16.319
2             26          Bubba Pollard   16.344
3             112        Augie Grill           16.419
4             5M        Mason Mingus 16.437
5             75          Jeremy Doss      16.441
6             81          Chase Purdy      16.460
7             14D       Chris Davidson 16.461
8             91          Ty Majeski         16.475
9             53B        Cole Butcher     16.480
10          55D       Spencer Davis   16.514
11          9C          Jeff Choquette 16.514
12          18          Casey Roderick 16.520
13          14C        Connor Okrzesik 16.521
14          36          Dan Fredrickson  16.521
15          51          Kyle Busch          16.530
16          4             Kyle Plott            16.530
17          26S        Chandler Smith 16.544
18          99L        Raphael Lessard  16.552
19          11B        Logan Boyett    16.553
20          18G       Noah Gragson  16.571
21          20          Brandon McReynolds  16.573
22          12          Harrison Burton 16.576
23          46          Cole Rouse        16.582
24          00          Anthony Cataldi 16.609
25          53J         Boris Jurkovic    16.621
26          07          Corey LaJoie      16.624
27          19          Kason Plott        16.649
28          01          Jake Crum          16.653
29          13          Cassius Clark      16.658
30          51N       Stephen Nasse 16.660
31          2W        Donnie Wilson  16.660
32          15          Christian Eckes 16.660
33          9K          Derek Kraus       16.664
34          55          Brandon Oakley 16.705
35          32D       Tyler Dippel       16.705
36          8F          Tate Fogleman 16.734
37          88          Garrett Jones    16.743
38          33          Dustin Smith     16.744
39          7             John DeAngelis Jr  16.749
40          11R        David Rogers     16.769
41          79          Kyle Bryant        16.778
42          89          Jeremy Pate      16.782
43          22          Donald Crocker 16.786
44          79A       Joe Aramendia 16.815
45          16          Steven Davis     16.843
46          45          Rich Bickle Jr     16.847
47          5             Jerry Artuso       16.855
48          58C        John Coffman   16.882
49          43          Dennis Schoenfield  16.897
50          4R          Ben Rowe           16.947
51          64          Garrett Evans    16.967
52          32          Stuart Dutton   17.137
53          58F        Jeff Firestine     18.159