As of two weeks ago, Ernie Francis Jr. had only driven a stock car four times.
The 19-year-old from Dania, Florida, had been behind the wheel for a test at Hickory Speedway, during the two-day tryout for NASCAR's Drive for Diversity program at New Smyrna Speedway and in this year's Xfinity Series race at Road America.
Even then, Francis still has the numbers for Roger Penske and Chip Ganassi saved in his phone.
"I've met personally and had meetings with and still talk on the phone with them every couple of weeks," Franics told NBC Sports on Nov. 7 when he was announced as one of the six members of the 2018 Drive for Diversity class. "It's been a good climate for me in meeting these people and the more connections the better."
What does an aspiring NASCAR driver with next to no stock car racing experience talk about with two legendary car owners?
The future. Or potential ones.
"Kind of just talking about what I'm doing with my career and where I'm trying to go and what's it going to take for me to get behind the wheel of their race cars," Francis said. "I've had a lot of talks with Chip Ganassi about that and hoping every step that I take out here will get me closer to getting behind the wheel of one of those cars."
Why would Penske and Ganassi have interest in the 19-year-old driver?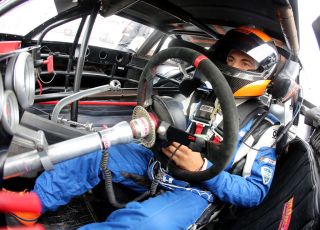 CHANGING LANES
Francis stands in the Rev Racing shop, located less than a mile from Charlotte Motor Speedway. Overlooked by banners with the faces and accomplishments of Kyle Larson, Daniel Suarez and Darrell Wallace Jr., graduates of the Drive for Diversity program, Francis isn't intimidated.
Not by the precedence or by the boxy stock cars he'll drive in the K&N Pro Series East's road course races in 2018.
He's been in much faster cars and won. A lot.
"When I hop behind the wheel of a K&N car or a Xfinity car I already know how to deal with that power and how to deal with that speed," Francis said.
While new to NASCAR, Francis has spent the last four years breaking records in sports car racing in the Trans Am Series.
Since he was 16, Francis has won four championships with the team owned by Ernie Francis Sr., Breathless Performance Racing Team. He's the youngest driver to reach that mark. The first three titles came in the TA4 Class and his 2017 title came in T4, driving a Ford Mustang.
He's also won 33 races, the last coming in the season finale at Daytona three days after his introduction as part of the Drive for Diversity program.
So why make the jump to a different racing ladder?
Francis Jr., who grew up a fan of Dale Earnhardt Jr., Jimmie Johnson and Jeff Gordon, sees NASCAR's path to its top level as more likely to payoff in the long run.
"I'd say it's about the same if not easier in stock car racing," Francis said. "Road course racing is a very steep ladder and that's the problem with stock car racing. The thing with stock car racing in general also is it all costs money to get to the top. Either it costs money or you've got to get recognized by a team. I think it's easier to get recognized in the stock car racing world than it is in road course racing. Being that there's so many road course racers, whether it's in endurance racing where there's four drivers in a car, there's so many drivers you're competing against compared to NASCAR when you're out there.
"It's smaller fields with one driver per car and it's kind of easier to be recognized if you're a good driver standing out in a field."
With three test sessions and 16 Xfinity laps under his belt at Road America before an engine problem, NASCAR has turned out to be more than he expected.
"After getting out there on track I realized there's a lot more to it," Francis said. "It's a lot more technical than people think. People think that it's just going out there just running a car in a circle. There's a whole different side to it. These cars are so intricate on the way the suspension set up is and how they need it to be to go around the track properly that I've had to learn in the couple of tests I've done. I've really come to appreciate that."
In addition to his K&N road course races for Rev Racing, Francis will also compete for the program's late model team. But there's also the possibility of Francis driving in his first K&N oval race toward the end of the year.
"I don't know how it's going to be yet," Francis said. "I need some more seat time before I get out there and just practice on one. The first goal is just going to be finishing the race and then the next one will be focusing on where we finish."
When he does get time on an oval again, he'll have the voice of his spotter from his first Hickory test, Lee Faulk of Lee Faulk Racing and Development, still ringing in his ears.
"He was the one yelling at me, yelling all kinds of things about how I was going too slow and pressing the brakes too much and all kinds off stuff," Francis said. "His voice is still in my head whenever I go out there and run on the oval tracks, kind of helps me out."
Father-Son Team
The speed and the adrenaline.
That's why Ernie Francis Jr. chose racing over other sports while growing up in Florida
"There's no sport where you get going 150, 200 mph on a race car flying around heading toward a wall and basically cheating death every lap you go around," Francis said. "It's pretty exciting.
"There's no rush like driving a race car."
Francis was exposed to that rush at the age of 4 by Ernie Francis Sr., when he started competing in go-karts on the regional circuit.
Francis Sr. raced in sports cars and his son helped however he could.
"My dad would take me to the track and I just wanted to watch the cars," Francis Jr. says. "I would clean the cars. I would help strap him in as much as I could and I just loved it from the beginning."
The relationship swapped roles once Francis Jr. got into go-kart racing, which he competed in until he was 12.
"It was just me and my dad, he was the one working on my go-kart and I was the one driving it," Francis Jr. said.
In 2013, the year before Francis Jr. began his historic tenure in the Trans Am Series, the two raced each other for one season in the Pirelli World Challenge's TCB Class. At 15, Francis was the youngest driver competing in the Pirelli.
Francis Jr. won seven races and finished third in the standings, also earning Rookie of the Year honors while his dad placed fifth.
With three Trans Am titles under his belt, the duo first visited North Carolina last year to get a tour of the Rev Racing shop Francis Jr.'s cars will be built out of and where a future that could involve the names Penske and Ganassi will begin.
The younger Francis says his father has "never really been" into NASCAR, but says "he likes" what his son is getting into.
Though Francis Sr. does have one demand.
"His main thing that he says is, if I start doing NASCAR racing he wants tickets for every race," Francis Jr. said.